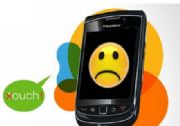 Dell dumped RIM's BlackBerry as its business smartphone and announced that it would be supplying 25,000 of its employees with the Windows 7-powered Dell Venue Pro. The move is yet more gloom for RIM that has already been having a stinker of a bad year.
"Clearly in this decision we are competing with RIM, because we're kicking them out," Dell's CFO, Brian Gladden, said in an interview with the Wall Street Journal .
Dell switches to the Venue Pro next week when the phone is officially released in the US. The move will reportedly save the company about 25 percent in mobile communication costs, mostly because it'll be independent of RIM's BlackBerry Enterprise servers.
BlackBerry Blues
A BlackBerry sales rep told me that to give Enterprise access to 25,000 employees would be worth roughly $1.2 million.
RIM hasn't had great luck this year. Last month it was surpassed by Apple in smartphone market share and its latest addition to the BlackBerry line — the Torch 9800 — was a disappointment to many. And while RIM's PlayBook tablet has received positive buzz, the tablet's lack of apps might mean a less-than-spectacular adoption rate.
ZDNet doesn't believe this is a signal of "the death of RIM," but rather typical self-promotion on Dell's part. Dell is touting its phone and trying to get other businesses thinking about switching over to the Venue Pro.
What Dell Risks
Dell's brazen switch could also come back to haunt it. As the site 24/7 Wall Street points out, the Dell Venue Pro is largely untested and is not being offered on AT&T or Verizon's networks — a telling oversight. "The Venue Pro may not sell well. It could be the Palm Pre of 2011. Dell will have lost face, and its … employees may end up with a smartphone that no one else wants," Douglas A. McIntyre writes.
Dell might also see cost and security issues crop up as it watches RIM get smaller in the rearview mirror. BlackBerry phones are famously efficient with data usage which cuts down on monthly data charges. And we don't yet know if Dell Venue Pro coupled with Microsoft Exchange on the back end can match RIM's legendary security. It might be embarrassing for Dell if it finds out it can't.
Is Dell making the right move?