Interested in watching broadcast television–for free–on your iPad? Just point Safari to FilmOn.com.

FilmOn is streaming broadcasts of several network affiliates in the Los Angeles area, including those of NBC, CBS, ABC, and Fox, in an effort to entice users to purchase subscriptions to their service. The basic package costs $9.95 per month, while a premium package that includes movie channels and pay-per-view movies costs $24.95 per month.
A number of other feeds are also currently available for viewing, including audio-only feeds from Sky News, BBC News, CNN International, and Dubai Sport. The XXX station is (naturally) blocked from free access.
We took a look at the free offering and found that the quality of the stream is very good–although, occasionally, the video turns into a solid block of color and, of course, you can't skip any commercials in the programming. If you don't have an iPad, you'll also be able to access FilmOn–but stream selections are limited to the four major broadcast networks. If you'd prefer not to view the stream in your browser, FilmOn also offers a special player download for viewing content.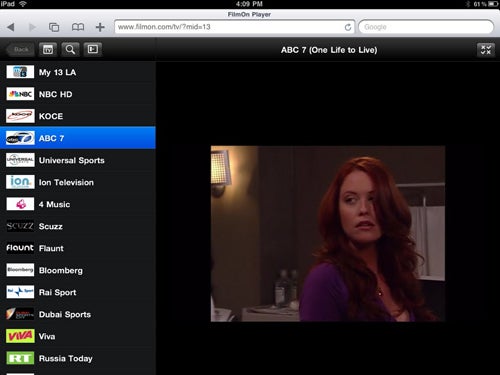 FilmOn is the brain spawn of U.K. financier Alki David.
"Our platform is designed to be easily customized for broadcasters and advertisers that wish to get into the online broadcast business quickly and with minimal expense," David said in a statement. "FilmOn is currently in negotiations with all major cable providers and plans to provide complete syndicated cable television services throughout the U.S. in 2011."
If you're wondering how the networks feel about all this, well, they're not very happy with FilmOn–nor are they excited about ivi TV, which streams live broadcasts from network affiliates in Seattle and New York.
They're so unhappy, in fact, that they've sued both outfits.