Evernote, the application that allows users to capture almost any digital information and access it from any of their devices, will launch a new version of its app for Android phones on Monday.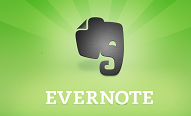 The software will be available from 9 a.m. Eastern Time and marks a major upgrade from the current version.
"Evernote 2.0 for Android is the most advanced version of Evernote we've ever released on any mobile device," said Phil Libin, CEO of Evernote.
"It's completely redesigned with many new features, every aspect of the app has been improved," he said. "It's faster, it's more attractive, it's more powerful, it runs on a very wide variety of Android devices and it integrates better with many phone services."
Among improvements to the software is integration with Google search in the Android handset or tablet, so Evernote results will be integrated with the Google results. Multiple attachments can be added to a single note and documents can be clipped from the browser of album applications.
"Probably the biggest feature for premium users is offline notebooks," said Libin referring to Evernote's US$5 per month premium service.
"That was the most requested feature on Android," he said. "We previously had it only on iPhone and everyone on Android wanted this. So you can synchronize your notebooks locally and it makes it much, much faster if you don't have network access."
Libin was speaking on the sidelines of a Tokyo news conference where he announced the software will be installed on all Android smartphones sold by NTT DoCoMo, Japan's top cellular carrier. Additionally, all customers of DoCoMo that have an Android phone or buy one before May 2011 will get a one-year upgrade to Evernote professional at no charge.
The deal is the first for Evernote with a major carrier.
"We kind of ignored carriers for the first couple of years, especially the big ones in the U.S. and Europe just because it took such a long time to talk to them and get anything done, and conventional wisdom was the carriers don't really do anything with small companies," he said.
Now the deal with DoCoMo has been finalized, Libin hinted more might be on the way.
"We're very encouraged now and perhaps we'll go back and pursue deals in other countries," he said.
Evernote currently has around 5 million users.
NTT DoCoMo's venture capital arm, DoCoMo Capital, was an early investor in Evernote. In mid-October the company announced it had received a further investment of US$20 million from Sequoia Capital.
That money will be ploughed back into the software as the company seeks to expand its footprint and add Evernote software for a wider group of devices, said Libin.
"In particular, we're going to be stressing sharing and collaboration so we have several releases coming out that let you do a much better job of letting you share your thoughts and memories," said Libin "We're doing a lot with editing, mark-up and annotation."
Martyn Williams covers Japan and general technology breaking news for The IDG News Service. Follow Martyn on Twitter at @martyn_williams. Martyn's e-mail address is martyn_williams@idg.com
Note: When you purchase something after clicking links in our articles, we may earn a small commission. Read our affiliate link policy for more details.