Hanvon Technology, which is based in Beijing, is expected to unveil the first color E Ink reading device at the FPD International 2010 trade show in Tokyo tomorrow, according to the New York Times. The thus-far unnamed device features a 9.6-inch color E Ink display, Wi-Fi, and 3G connectivity; and will hit the market in March 2011 for the equivalent of US$440 — roughly $150 less than the iPad's price in China.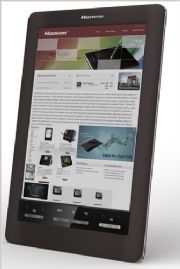 Hanvon's founder and chairman, Liu Yingjian, told the New York Times that "It's possible that we'll sell this in the U.S. as well."
Up until now, E Ink technology has been solely in high-contrast black and white. Most companies have adhered to this colorless technology, but with the iPad's growing popularity as an e-reader — and Barnes and Noble's — it looks as though others will need to adopt color E Ink or risk becoming obsolete. (I'm looking at you, Amazon.)
Amazon has been clinging to E Ink since inception, and Amazon CEO Jeff Bezos said that while the company has plans to create one eventually, the color Kindle is "still a long way out."
Bezos also said that he's seen "several [color touchscreens] in the laboratory, but they are not quite ready for production." Nothing yet has matched the readability of E Ink tech.
Sony, with its oft-forgotten e-reader, told the New York Times that it doesn't have concrete plans to delve into color either. "On a list of things that people want in e-readers, color always comes up. There's no question that color is extremely logical. But it has to be vibrant color. We're not willing to give up the true black-and-white reading experience," said Steve Haber, president of Sony's digital reading business division.
The color version of Barnes and Noble's Nook e-reader has a 7-inch backlit touch screen with 16 million colors — but the new Nook is decidedly not a traditional e-reader. Rather, it's a tablet marketed as an e-reader. While Barnes and Noble plans on having a robust app store, this is directly positioning its Nook beside the iPad — and that's not exactly wise.
I'm hoping that Hanvon's announcement has stirred conversation at Amazon's headquarters. Color e-readers are here to stay, and now that color E Ink technology is out in the wild, Amazon ought to be the first U.S. company to make it happen, and perhaps put LCD backlit tablets to shame.