It's here. Brace yourself. Put grandma in the cellar and lock the dog in the closet.
Yes, today sees the long-heralded release of RockMelt, the "social Web browser" backed by Marc Andreessen. He's one of the guys behind Netscape, the original Internet browser.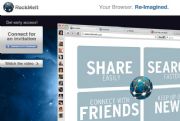 Concrete details of RockMelt have dribbled out over the last few days, and it's now possible to join the queue for a beta, although you'll have to sell your soul by signing-in with your Facebook ID at the Website (and click Allow to let RockMelt do lots of potentially evil things on your wall, just like those dodgy Facebook quizzes).
Essentially, it appears that RockMelt is a Webkit-based browser very similar to Google Chrome, except it has various built-in plug-ins that link with Facebook and Twitter to allow instant sharing of stuff. It also has a search tool that preloads results so that you can flick between results quickly.
Yawn. Sorry, where were we?
Did you wake up this morning and think, "What the world needs now is another Web browser"? After all, with Firefox, Opera, Internet Explorer, Chrome, and a handful of smaller efforts, there simply isn't enough choice out there!
And the fact is that none of these browsers offers easy access to social networking sites. Oh, wait. Yes they do. We can just visit the sites in question. Even if I find clicking on a bookmark link too tiring, I can download one of hundreds of plug-ins that bring the likes of Facebook and Twitter to a side-panel of my browser… Just like RockMelt.
RockMelt is backed by Marc Andreessen, who's also a member of the Facebook board (amongst other things). I strongly suspect that if it wasn't for his involvement, very few people would be giving this product a second look.
Above all, we've already got something that promises similar. It's called Flock. Although this has an utterly devoted userbase, it simply isn't a realistic contender in the browser wars. It's been available for five years, and it was one of the 100 Best Products of 2008 here at PC World. However, two years is a long time in computing. Things have changed. If you don't believe me, ask yourself who you know still uses MySpace.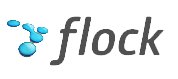 This is the fundamental failing with RockMelt (which I want to call "RockSalt"). Its makers are pinning its hopes on the whole concept of social networking as it exists at this very moment (e.g., sharing interesting stuff), and it's also banking on the future success of Facebook and Twitter. Sure, these two services are popular, but the history of the Internet has been one of giants toppling when something better comes along. People are remarkably disloyal. Remember AltaVista? MySpace? Excite?
Here's the deal: A Web browser is just a window onto the Internet. It's a really basic thing, and the best Web browsers are those that are fast and out of the way, like Google Chrome–which has been rewarded by a massive boost in popularity. Enhancing the "window", or building-in "innovative new features" to the window is actually annoying.
Yes, social networking is the way of the future. However, it's up to the social networking sites to find innovative ways of using our browsers. It's not our job to find innovative ways of accessing them. And with HTML5, the social networking sites have nearly everything they need to enhance the browsing experience, at least for the moment.