A little-noted announcement earlier this month could have huge implications for cloud take-up in smaller businesses. Dell has snapped up Boomi, a company that describes itself as a "cloud integrator."
What this means is that Boomi produces software such as AtomSphere that make it devastatingly easy to mix together resources of the cloud and your own existing physical hardware and software. With Boomi it's as simple as drag-and-drop to get everything working smoothly.
It's all part of Dell's grand plan to move into the cloud, but two profound realizations come out of the acquisition announcement.
First, Dell could soon be selling you the utility of computing, but not necessarily the physical computer. Next, when companies like Dell begin to offer cloud services, the cloud is probably coming to businesses of all sizes, whether they like it or not. You'd better get ready.
It seems as if Dell plans to bring the cloud down to earth and make it less exotic, with particular relevance to businesses that shy away from innovative approaches to IT.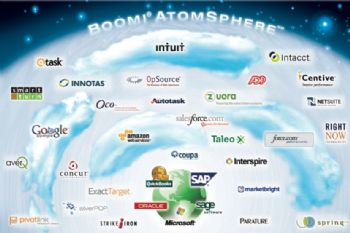 Here's how it could work: Dell will sell or rent you a complete server package. You'll get physical hardware on your premises for immediate needs and, should you find yourself needing additional capacity in the future, you'll be able to seamlessly plug-into Dell's cloud and get all the computing power or storage that you need. Billing will be done via your existing service contract with Dell.
There'll be no need to research or sign-up to third-party cloud services, and–more importantly–no need for hackish third-party integration software to make everything work nicely together.
This being Dell, no doubt everything will be priced competitively, and there will be fleets of salespersons demonstrating how easy and useful the cloud can be for every size of business. Indeed, Dell should be praised for being brave enough to make a move away from simple box-shifting.
Purely from the point of view of those who understand what cloud computing is all about, Dell's recent cloud announcements are quite simply great news.
Of course, I could be wrong. Cynics might suggest that the inverse is true: Dell bought Boomi to either stop it from falling into the hands of others, or to simply make a show of being savvy about the cloud.
However, Dell makes a lot of money from selling the hardware needed by businesses, and has done for a very long time. Why would it want to throw all that away by trying to get a piece of the already competitive but burgeoning cloud marketplace?
In Video: Oracle's Larry Ellison Defines Cloud Computing at OpenWorld