At at time when federal (and local) government spending is under an electron microscope, an examination of the government's worst tech purchases seems in order. If the news that the U.S. Navy may have paid $400 for ashtrays deployed to submarines, or the apocryphal tale that NASA once spent $10,000 on a space toilet got you hopping mad, well, you may want to sit down, because the money that the feds have wasted on failed or substandard technology projects has, over the years, cost taxpayers the equivalent of the GNP of several small nations. Here are some choice examples of goofy federal and state government tech buys in recent history.
The IRS's Customer Account Data Engine (CADE)
Final cost: $400 million
Who's responsible: IRS, Vendor Computer Science Corporation.
The IRS made a $400 million blunder with the Customer Account Data Engine (CADE) in 2004.
If any federal agency should know how to handle massive amounts of paperwork and data, it's the IRS. In the late 1990s, the agency had been struggled for decades with a cobbled-together technology called the Master File System.
In 1998, work began on its successor; and in 2004, when the IRS announced the Customer Account Data Engine (CADE), it was hailed as a revolution in tax-form processing. Of course, it arrived three years late: The original plans for CADE had projected that the system would be up and running by 2001.
In 2007, CADE processed only about 11.2 million tax returns. But by March of the next year, CADE had ramped up significantly, and it processed more than 15 million returns in just the first three months of 2008. Briefly, things looked bright for the system, but in 2009 CADE was processing forms at a rate of about 40 million returns a year–far less than expected. The system suffered from problems with data security, too. The IRS pulled the plug on CADE development in June 2009.
"After over 5 years and $400 million, CADE is only processing about 15 percent of the functionality originally planned for completion by 2012," read a later GAO report, which noted "unexpected complexities" in the system. The IRS continues to use CADE while it works on plans for its successor, CADE 2; but the agency no longer updates the system.
Secure Border Initiative-Network (SBInet)
Final cost: at least $620 million (as of 2008)
Who's responsible: Boeing, Customs & Border Protection division of Homeland Security
When the Customs & Border Protection (a division of the Department of Homeland Security) announced in 2006 that it would develop a "virtual fence" along 53 miles of the Arizona-Mexico border, some observers hailed the plan as a perfect application of established, off-the-shelf technology to solve a serious problem, though others questioned the ultimate cost of the project. Too bad it didn't work out quite the way DHS expected.
The electronic border surveillance system accounted for more than half of a $1.1 billion government contract with Boeing, but by 2009 members of the House of Representatives were taking CBP officials to task for repeated delays and cost overruns that forced the program's administrators to ask for $50 million in economic stimulus money (which they received). A 28-mile prototype was completed in 2008, but continued delays may result in cancellation of the program before the end of 2010, with none of the permanent installations completed.
In a 2009 hearing before the House Homeland Security Committee's Border, Maritime and Global Counterterrorism Subcommittee, the Secure Border Initiative's executive director Mark Borkowski explained "What we bet on, which was probably not a good bet, was that this was like buying a new printer for your computer." Maybe if they'd just bought $620 million worth of printers, and stacked the boxes end to end along the border, they'd have had more success.
Denver International Airport's Automated Baggage Handling System
Final cost: $193 million
Who's responsible: New World Airport Commission, United Airlines, BAE Systems
Touted as a revolutionary technological marvel in 1992, during the airport's construction, Denver International's automated baggage-handling system ranks as one of the worst technology failures the federal government has ever funded. The system, designed to move tens of thousands of bags a day between the airport's terminals and planes, never worked right. It was an unmitigated disaster.
(Click the thumbnail above for a better look at DIA's DOA baggage handling system.)
According to plans, the system was to use Destination-Coded Vehicles ( DCVs)–essentially, suitcase-size barcoded similar to the ones you put your laptop, shoes, and belt in so airport security can scan the items with an x-ray machine–to transport bags through a computer-controlled network of conveyor belts at a rate of 1000 bags per minute.
The specs included 300 computers (with 486 chips–woo) as well as dozens of barcode readers, ethernet cabling, more than 17 miles of tracks, and more than 6 miles of conveyor belts.
But the result was hilariously bad. When invited to check out the system in 1993, members of the press witnessed bags flying out of the DCVs, and clothes and other suitcase contents strewn about as DCVs crashed into one another, flew off the tracks, and caused the system to jam repeatedly. United Airlines, one of the airport's largest customers, stopped using the system after just a few months. It has not been used since.
Navy-Marine Corps Intranet (NMCI)
Final cost: $8.8 billion (as of 2009)
Who's responsible: Electronic Data Systems, U.S. Navy, U.S. Marine Corps
When the Department of the Navy's contract for the Navy-Marine Corps Internet (NMCI) expired on September 30 of this year, it marked the end a decade of poorly managed enterprise software development that cost taxpayers more than $8.8 billion dollars and the CEO of a large technology firm his job. It was one of the military's biggest tech blunders ever.
Envisioned as a massive, enterprise-level IT network, NMCI began with some lofty goals. Not only would the network provide broadband access and secure communications to U.S. Naval facilities around the world, but also it would give IT managers the ability to manage and handle software licensing and desktop and laptop installations remotely.
Unfortunately, the Navy and EDS, the prime contractor for the project, severely underestimated the scope of the planned network. Originally envisioned to serve 300,000 Navy and Marine personnel, NMCI eventually encompassed a network of 700,000 systems–but not without some serious growing pains, including (once again) security issues. EDS's CEO Richard Brown was shown the door in March 2003, after cost overruns and problems contributed to a drop of EDS's stock price from $63 per share in March 2002 to $15 per share when Brown departed.
Counterfeit Computer Chips
Final cost: unknown
Who's responsible: Disreputable chip suppliers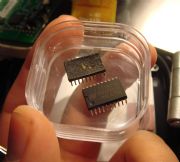 During wartime, shortages of critical spare parts can cost lives. Unfortunately for many military contractors, a significant number of highly sophisticated counterfeit electronic components–such as specialized computer chips–have infiltrated the supply chain.
Late last month, federal agents raided VisionTech Components, a Clearwater, Florida supplier of computer chips, arresting its owner Shannon Wren on charges of fraud and of trafficking in counterfeit merchandise. The chips sold by VisionTech allegedly went to military contractors BAE Systems and Alstom, according to the indictment, and were intended for installation into handheld geiger counters and missile systems.
Also in the past year, Mustafa Aljaff and Neil Felahy, were indicted in California for selling more than 13,000 counterfeit semiconductors and processors to the U.S. Navy. In both instances, virtually all of the counterfeits originated in China.
But the problem appears to be more widespread than these two examples suggest. A GAO report warns that several military branches have had close calls with faulty chips (later determined to be counterfeit) sold for use in military aircraft, communications systems, and medical devices. Customs and Border Protection reports claim that the agency has seized more than 5.6 million counterfeit chips since 2007, and the Department of Commerce has received thousands of reports of counterfeit chips ending up in the hands of government agencies and contractors. The problem is compounded by the fact that the counterfeits are so difficult to detect.
FBI's Virtual Case File System
Final cost: $170 million
Who's responsible: FBI, Science Applications International Corporation (SAIC)
The FBI handles huge amounts of paperwork and evidence in the course of investigating criminal cases. The bureau's Virtual Case File program, begun in 2001, attempted to ease the tracking of cases by pulling together, in electronic form, as much of the casework as possible.
But after four years of development–with $170 million spent and not a single component of the system finished–the FBI decided to scrap the Virtual Case File.
California's Decertified Electronic Voting Machines
Final cost: unknown, probably in the millions of dollars
Who's responsible: manufacturers of noncertifiable voting machines
Okay this isn't a federal government fiasco, but it does involve the most populous state in the nation. Technology advocates claimed a huge victory in February 2008, when California's secretary of state officially decertified thousands of electronic voting machines. In one county alone (Riverside, near Los Angeles), all 3700 e-voting machines were taken offline a few days before the presidential Super Tuesday primary of that year.
The e-voting system was dogged by allegations that the machines could too easily conceal mistakes or deliberate code changes that would make valid recounts impossible, though the machines' manufacturers resisted calls from security experts to solve the recount problem. But for the California counties that bought the machines, the cost remains a sore point that resurfaces every two years during primaries and elections.
FAA's NextGen Air-Traffic Control System
Final cost: expected to be between $15 billion and $22 billion by 2025
Who's responsible: Federal Aviation Administration, Metron Aviation, Booz Allen Hamilton, Boeing, CSSI, General Dynamics, and ITT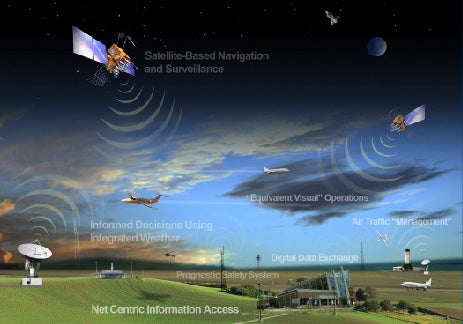 Would it concern you to find out that, as planes approach some of the nation's busiest airports, air traffic controllers periodically lose all radar tracking and have to switch hastily to a system involving paper, pens, and the controller's persistence of vision and memory, lest planes crash into one another during approach or takeoff?
It certainly is an issue for the FAA, which manages the air-traffic control system in the United States. And yet the agency's planned update to the air-traffic control system is not expected to come online for at least two years.
(Click the thumbnail for a closer look at the FAA's NextGen air-traffic control system.)
Named NextGen, the system is, in the words of an FAA spokesman, "a portfolio of separate stand-alone products" designed to help planes fly closer together in an attempt to save on fuel costs and reduce waiting times in the air and on the ground. Each separate, stand-alone product has to be custom built, however, and the FAA is not exactly a model agency when it comes to technology integration. The whole thing is scary enough to make me think seriously about sticking to the rails, the roads, and the high seas.