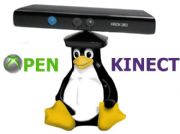 Kinect, Microsoft's motion gaming accessory has been hacked–mere days after its release.
Less than a week ago New York-based DIY vendor Adafruit set a challenge, dubbed the Open Kinect challenge, which offered a $2,000 reward to whoever could hack the Kinect as desired. Adafruit detailed that the group or individual that created an open-source driver for the new accessory would be granted the prize money.
With the money on the table, hackers got to work, much to Microsoft's dismay, and in no time at all a hack surfaced.
The video below shows off the work of NUI Group forum user AlexP. In the video we can see his Windows 7 PC tracking the movement of the Kinect–it's a relatively basic application, but it's a good start.
What other applications, outside of its Xbox 360 purpose, would you like to see Kinect used for? How about logging on to your PC with face-recognition, or swiping between applications with the wave of a hand? Let us know in the comments.
[Via Gizmodo]
Like this? You might also enjoy…
Follow GeekTech and Chris Brandrick on Twitter.