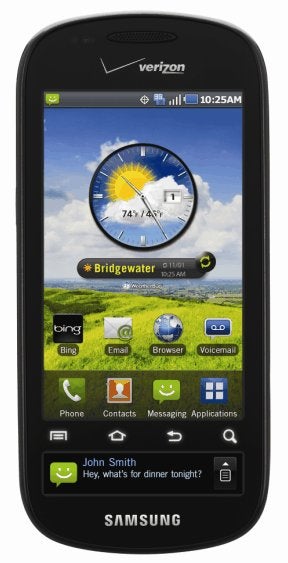 After weeks of leaked documents and rumors about Samsung's latest Galaxy device, the company finally made an official announcement in New York City today. Coming to Verizon on November 11, the Samsung Continuum will have a 3.4-inch Super AMOLED display as well as a secondary 1.8-inch "ticker display" below it.
According to Samsung, the ticker display will show social network feeds, news and alerts. Built-in grip sensor technology in the hardware activates the ticker screen when you hold it. The idea behind this is that you can see what's happening in your news stream without having to wake up your phone from its standby state. The ticker display is customizable in that you can control what content and social networks it streams.
Honestly, I'm not 100% sold on a separate display dedicated to news feeds in social networks. On the one hand, I like the idea of keeping my social networks isolated to one area of my phone. But isn't that what separate homescreens are for?
I'm also disappointed that the Continuum will ship with Android 2.1 (with Samsung's TouchWiz 3.0 interface). Samsung really needs to get its Galaxy line of phones updated with Android 2.2. These phones have beautiful displays that deserve Flash support!
PCWorld is at the launch event in NYC this evening so stay tuned for hands-on photos, impressions and video!