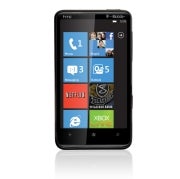 The HTC HD7, one of the first smartphones featuring the Windows Phone 7 OS, has sold out, one day after its release. This instantaneous success can be credited either to HTC's impressive track list of making great smartphones or the public's strong interest in Microsoft's revamped mobile OS. Either way, it's a good day for Microsoft — though there's a long road ahead.
HTC Sees Great Launch for Impressive Phone
The HTC HD7 — with its 4.3-inch WVGA display, second-generation 1GHz Snapdragon processor and 5-megapixel camera — received positive reviews, with PC World giving it 4 out of 5 stars.
Now T-Mobile's customer service is claiming the HTC HD7 is on back-order. When you try to order the phone online, a message appears: "This item is not available for immediate shipment." It's precisely this kind of carrot-dangling buzz that makes consumers want an item even more.
Prior to the Windows Phone 7 launch in Europe, HTC told Slashgear that carriers had been "tentative in their enthusiasm" for Windows Phone 7, but that HTC was committed to "producing more devices than the operators said they wanted." That means the HTC HD7 will likely reappear in stores soon.
How Much Credit Should Windows Phone 7 Take?
Like the carriers Slashgear spoke to, many people have been tentative about Windows Phone 7's impact on the market. PCWorld's Tony Bradley says that while Microsoft's revamped OS may be too little, too late, the native integration of Microsoft Office tools, Microsoft Exchange and Outlook for messaging could make it great for business phones (and perhaps tablets, further down the road).
Interest in the platform is expected to grow steadily, and some are predicting device shortages may loom into the holiday season. Good for the carrot-dangling effect; bad for actual sales.
Apps are probably the most important aspect of new smartphones, and Microsoft isn't slacking: The app submission process has been opened up to any developer who has registered to publish apps on the Windows Phone 7 Marketplace. This open-turnstile approach will help fatten the marketplace's 1600 apps already available. Compared with the iPhone's 300,000 apps and Android's 100,000 apps, this number isn't spectacular, but that number has grown by 37 percent since November 1 — an indication that Microsoft is motivated to play catch-up.
Then again, O'Reilly Research found that, on average, Windows Mobile apps are more expensive than iPhone apps, with the mean price for Windows' Mobile apps at $6.16 versus $3.43 for the iPhone. Good news for developers, but potentially bad news for consumers.
But I Want One Now
If you're aching for a Windows Phone 7 handset, other carriers may have them in stock — first check out this comparison chart to see which one is suited for you. And if you're not convinced that Windows Phone 7 can hold a candle to either the iPhone or Android handsets, there's a comparison chart for that, too.