Many online photo-sharing services will let you buy prints or value-added projects incorporating your photos, but only Google's free downloadable Picasa software lets you create photo projects on your computer and print them at home.
Step By Step
1. If you don't already have it, download and install the free Picasa software. You do not have to register with Google or the service to use the software. The first time you use it, Picasa will locate all the photos and graphics on your computer, which will take hours if you have thousands.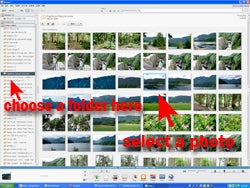 2. To find the image you wish to edit, scroll through the folders and files in the left-hand browser column. Click on a folder, which will show the contents (photos) in the large window. Double-click a photo. That opens the editing window. The left-hand frame opens in the Basic Fixes tab, which has tools for cropping, straightening, red-eye reduction, retouching, and adjusting the fill light. Three tools provide automatic adjustment: Auto Contrast, Auto Color, and I'm Feeling Lucky. You probably recognize the latter name from Google search; this tool will provide a general overall correction.
Picasa lacks the effectiveness and control of a professional editing program such as Adobe Photoshop. You will have to experiment with these tools to see if you are satisfied with the results. In the sample shown, notice how Auto Color reddened the clouds. Any changes can be undone (<Ctrl>-Z) or unsaved.
A text tool lets you place text anywhere on a photo. You can choose the font, size, style, and color of the text. The second tab is Tuning, which has additional adjustments for highlights, shadows, and color temperature. The third tab is Effects. Its options include converting to black-and-white or sepia tones.
3. Once you've edited a photo to your satisfaction, you have a variety of options. Click the Print button to print it. The print driver will let you print full page or in any of four smaller standard photo sizes. You can add a border and text.
Click the Create menu for other local publishing options. You can make the picture be your desktop wallpaper or make a poster from it. You can use multiple photos to make a collage, screensaver, or movie.