In a video-centric world, it's occasionally nice to just unplug and do things the way your parents did. Okay, perhaps your grandparents, or maybe their grandparents. Whatever your time frame, flipbooks, such as those you can create with Flipbook Printer (free/donationware), are fun and great conversation pieces. And unlike video, they don't go away when you turn off the electricity.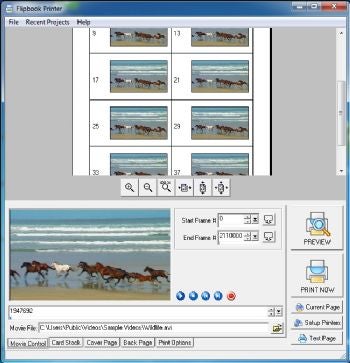 In case you have no experience of this 1880s technology, flipbooks are a series of images on bound paper that depict a short event. You grab the book along its bound edge, bend back the unbound edge, then let the pages flip forward in rapid fashion. The result is an animated image.
Few of us are skilled animators, so the easiest way to create an animation is by capturing stills from a video. That's the magic of Flipbook Printer. Simply load an MPG or AVI video, set the start and end points, and DonationCoder.com developer Mouser's Flipbook Printer will automatically generate the required images and when you're happy with them, print them for you. Flipbook Printer lays them out so all you have to do is staple the images together. Two templates for Avery cardstock are provided, but you may tweak the layout for just about any type of paper.
Although Flipbook Printer certainly eases the creation of handheld animations, and I hesitate to pick on a freebie, even in a mild way, the program could use a bit of interface work. A daunting amount of options and numbers faces the users. Many of the controls are tiny, and it could be a bit easier to select the start and end points of a video. All that said, if you simply play around for five minutes and accept the defaults, you'll do just fine.
Flipbook Printer beats the tar out of trying to create a flipbook manually and if you use it, send a few bucks Mouser's way to support development efforts and help him pay off his school loans. The program is free for personal use, but you must grab a serial number (free or paid) from the DonationCoder.com Web site to continue using it.