Finding yourself short on time and/or patience? Good news: Google's got a little something new to make your next Web search even speedier.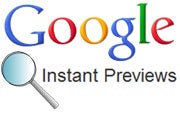 Google announced the debut of Google Instant Previews on Tuesday. And no, you aren't experiencing déjà vu: This is something different from the Google Instant feature we saw rolled out in September.
The original Google Instant allows you to see search results as you type. The new Google Instant Previews takes it a step further, letting you actually peek at snapshots of sites without ever leaving the results page.
"Instant Previews provides a graphic overview of a search result and highlights the most relevant sections, making finding the right page as quick and easy as flipping through a magazine," Google Product Manager Raj Krishnan explains.
Hey, we're talking about images here — so why try to illustrate with words? Here's a hands-on tour of what Google's new Instant Previews feature actually does and how it can work for you.
Google Instant Previews: The Newest Way to Search
Once you have Google Instant Previews enabled, you'll see a small magnifying glass to the right of every Google search result (view full-sized image). To start using Instant Previews, you simply click on one of those icons. You can also hit the right arrow key if you prefer a mouseless navigation experience.
Whichever way you do it, activating the magnifying glass brings up a preview thumbnail for the page in question. It doesn't take long, either; Google says it's usually a delay of less than one-tenth of a second. Despite my best speed-counting efforts, I couldn't quite tell if that estimation was precise — but let's just say it was pretty darn close.
Each "instant" preview shows you a current view of the page, complete with text, graphics, and anything else that might be present (view full-sized image). If you click on the thumbnail, Google takes you to the site. If you move your mouse anywhere else within the search results, Google starts loading previews for other pages in the list.
When Google detects text that seems particularly relevant to your search, it creates an orange-highlighted pop-out box within the preview so you can read the words (view full-sized image). When I searched for "Conan O'Brien review," for example, Google Instant Previews pulled out text showing a review of Conan's first show from People.com.
Google Instant Previews: The X-Rated Question
Maybe it's just my warped mind, but one of the first things I wondered was whether Google Instant Previews would blacklist certain "obscene" terms from instantly appearing, as it did with the original Google Instant feature. Google's explanation for the blacklisting made enough sense, by the way: You can always search for that stuff by hitting the "enter" key — but having the material pop up automatically could cause a child to be inadvertently exposed to something saucy.
Strictly in the name of research, then, I took it upon myself to search for a few terms far too raunchy to spell out here. (Hey, it's a tough job, but someone's gotta do it.) The verdict: Google does not block adult-oriented content from showing up in its Instant Previews feature. In other words, depending upon what your search entails, click the magnifying glass with caution; whatever's on the sites will show up in the previews on your screen.
Google Instant Previews: Final Thoughts
In general, I found Google Instant Previews to be a fairly handy feature. While the original Google Instant option did little more than annoy me (I disabled that bad boy about 5 minutes after it came online), I could see this one being something I'd actually use. Google suggests using it for times when you want to compare results, find a result that meets a specific need — something with a chart or image, for example — or quickly find a page you'd previously visited without having to click through to a dozen different sites. I could envision myself using it in any of those contexts.
So there's your tour — now, ready to try out Google Instant Previews for yourself? Head to google.com/landing/instantpreviews to give it a whirl. If the page doesn't load for you, don't worry: Google says the feature is being rolled out as we speak and will be available to everyone soon.
Hopefully, your wait won't be much longer than a tenth of a second.
JR Raphael is a PCWorld contributing editor and the co-founder of geek-humor site eSarcasm. You can find him on both Facebook and Twitter.