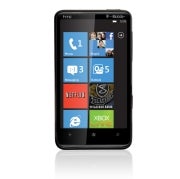 Critics are already debating whether Windows Phone 7 is a flop, but the phone's true measure of success will be in how long it takes to sell one million units. It all started after reports that Microsoft's new handset platform sold just 40,000 units Monday, the first day of Phone 7 sales in the United States. The financial blog The Street reported the sales numbers after speaking with an anonymous market research source "who tracks phone sales."
The so-called bad news came around the same time of reports that HTC's Phone 7 handset, the HD7, was flying off the shelves, suggesting that Phone 7 demand was high. But in the face of The Street's report some critics now argue the HD7 was only disappearing from store shelves because there weren't many HD7 devices available to be sold in the first place.
Then there's the comparison to current Android and iPhone activations, which reportedly hits about 200,000 and 270,000, respectively, every day. Of course, it's a little unfair to compare daily sales of a new and unknown product such as Windows Phone 7 to the daily performance of widely distributed and well-known devices like the iPhone and Android phones.
A better indicator would be to see how long it takes for Microsoft to reach one million handsets sold in the U.S. — a milestone that many companies like to crow about.
Let's take a look back at how long it took Android and the iPhone to hit a million units.
T-Mobile G1
Early rumors had pegged presales for the G1, the first Google Android handset sold in the U.S., at about 1.5 million units. But that number was soon debunked, ultimately the G1 sold one million devices in its first six months. That means T-Mobile was selling, on average, about 167, 000 G1 handsets every month for the first six months.
The iPhone circa 2007
Apple's iPhone sales for the first day were far more impressive than the G1. Apple announced that it had sold 270,000 iPhones 30 hours after the device went on sale on June 29, 2007. The company later announced in September that it had sold one million iPhones in its first 74 days of availability. So that means Apple sold, again on average, about 13,500 devices every day in the device's first 74 days.
Now, I don't think anyone truly expects Windows Phone 7 to sell one million devices in the first 74 days like the iPhone did. But Microsoft could hit the one million mark in the U.S. well before the G1, especially if Windows Phone 7 becomes a popular gift item this holiday season. Microsoft has several advantages the G1 didn't have. Windows Phone 7 is launching as the economy appears to be getting stronger. The G1, by comparison, launched at the height of the recession in October 2008. That was just one month after the investment firm Lehman Bros. collapsed, and the same month that Congress passed the Wall Street bailout package.
More people are also buying smartphones than ever before. A recent report by the Nielsen Company said that 41 percent of new mobile phone shoppers during the past six months have opted for smartphones over feature phones. Just over one year ago, in October 2009, smartphone buyers made up only 30 percent of new cellphone purchases in the U.S.
Despite what some might consider a sluggish start to device sales, the real test will be how soon Microsoft can announce it has sold one million devices in the U.S. If it takes more than six months, then it's fair to say the outlook for Windows Phone 7 is not good. Until then, it's anybody's guess how successful Windows Phone 7 will be.
Connect with Ian Paul (@ianpaul) on Twitter.