Once upon a time it was nice and simple. If you were in charge of corporate IT, you bought Microsoft. Serious quantities of computing power required a different solution, but for everything from mid-level enterprise down to desktops, Microsoft did the job. When it came to smartphones, Microsoft's products have never been great but always integrated neatly and were favoured by some although not all organizations.
How times change. Yesterday Michael Dell took to the stage at the KACE conference to discuss not only a pocketful of Android phones (apparently he made a show of pulling them from his pockets), but also to talk of a future where he anticipates the workplace is full of Apple, Android, and Microsoft computing devices. Dell also briefly confirmed a planned 10-inch tablet running Android.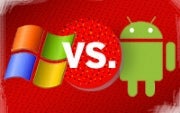 Dell acquired systems management vendor KACE back in February. KACE's appliances allow remote management of computing devices, allowing managers to do things such as patch computers, enforce security policies, and generally keep an eye on things. KACE specialises in a multi-platform approach–Microsoft, Apple and Linux are all supported, as are mobile devices such as iPhones.
But what is the earthquake that's causing a once-homogenous IT landscape to became so broken up?
Linux tried to attack the desktop but didn't succeed. Many companies tried and failed miserably. A different approach was required and therefore several companies attacked Microsoft's Achilles' Heel: mobile devices.
The amount of money Microsoft has invested in mobile computing since the late 1990s could clear the debt of a smaller European country. However, it was RIM's BlackBerry that was arguably the first true smartphone success. It snuck under the door and hinted at a world free of Microsoft. RIM hasn't been having the best of times recently but the lubrication it left behind makes it easier for the likes of Google Android and even Apple's iPhone to squeeze into the workplace.
Google Android is now the biggest threat to Microsoft. To try and displace Microsoft on its home territory, Google took the attack vector of mobile computing but ensured their mobile operating system was scalable. Clever Google. Sure, we want you to use Android on mobile phones, Google might say, but it works equally well on tablet computers and netbooks. And, you know, if one day you want to use it on your desktop computers, it wouldn't take much to make it fit. Things will be easier to manage if Android is on all your devices, and Android is a touch-friendly, Internet operating system from the ground-up–unlike clunky old Windows.
But that's in the future. Possibly.
Microsoft is a one trick pony that's shackled to another pony called Intel. Whenever it tries its hand at computing not built around x86, its failures are more numerous than its successes. It's had success in the gaming arena, but that's the exception rather than the rule (and its big trick there was extend its PC knowledge into manufacturing consoles–the first Xbox was nothing more than a PC you could plug into your TV).
The danger posed by Android for Microsoft comes not only from the fact that it's a new operating system that's fast gaining ground. The chief danger is that Android is platform independent. Like all versions of Linux, Android is equally at home on ARM-based processors as it is on Intel or AMD chips. Google is not only churning up the operating system landscape, but digging deeper to turn-over system infrastructure too. x86 is no longer the sure bet it used to be. We might soon be seeing ARM-based server devices as part of the movement into the cloud.
It remains to be seen how much of a corporation's IT structure will be infected by the virus that is Android. I don't believe Windows will be getting wiped from desktops or file servers any time soon. However, we are undoubtedly experiencing the most diverse computing landscape in perhaps 15 or 20 years. This brings with it challenges but also plenty of opportunities for those able to spot the trends.