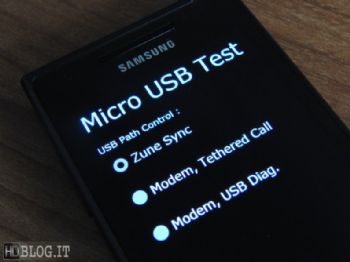 Officially, Windows Phone 7 doesn't allow tethering, but for the Samsung Focus, there's a shadier workaround.
The folks at Mobility Digest and Samsung HDBlog.it figured out how to unlock USB tethering through Windows Phone 7 on Samsung's Focus. First, you need to have Zune software installed on your PC, then perform the following steps:
Dial ##634#
In the diagnostics mode that opens up, enter *#7284# in the phone dialer.
Switch to "Modem, Tethered Call" and wait for the phone to restart.
Connect the phone to your PC via USB and wait for the drivers to install.
Go to the settings for the Samsung modem. In Windows 7, this is found in Control Panel > Network and Sharing Center.
Set the number to *99***1#, user name to WAP@CINGULARGPRS.COM, and password to CINGULAR1, and connect.
The standard disclaimer applies: This tethering workaround violates AT&T's terms of service, though the carrier did tolerate iPhone tetherers before the feature became official. The risk is yours to take. Also, if you've got a new, limited AT&T data plan, you might run into overage charges if you start downloading torrents and binging on YouTube clips. If you want to sync with Zune software over USB, you'll have to return to diagnostics mode and switch back to "Zune Sync."
So far, I haven't heard of this trick working with other phones or wireless carriers. You would probably need different diagnostics codes, which still might not allow this level of tweaking.
Still, the very existence of this feature suggests that tethering could some day be available officially for Windows Phone 7. Microsoft and wireless carriers just need to throw the switch — for a price, of course.