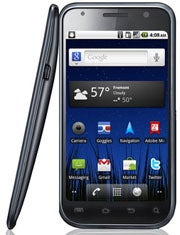 It may be a federal holiday, but right now the Android rumor mill is working in overdrive.
Today's buzz is all about the Samsung Nexus S — a still-under-wraps smartphone believed to be the successor to Google's Nexus One. According to various leaks, the Nexus S will be a "Google experience" device, meaning it'll run a stock version of Android without any of those baked-in manufacturer UIs. And, if the latest rumors prove to be true, the Samsung Nexus S will be rocking the as-of-yet-unannounced Android Gingerbread release.
While nothing official has been said about the Nexus S so far, the unofficial evidence is certainly stacking up fast. Here's a look at the latest leaks and intelligence surrounding the hotly anticipated Android device.
Samsung Nexus S: The Photos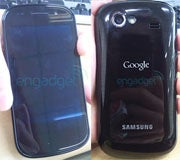 Earlier today, tech blog Engadget posted a series of photos said to show the Samsung Nexus S out in the wild. The images depict a slim-looking black phone with rounded edges, a front-facing camera, and a "Google" logo imprinted on its back. Engadget says the pictures were taken about a month ago; the site provides no specifics, however, as to how they were obtained.
The images, it's worth noting, do match up with a mock-up created by the gang at Gizmodo a couple of weeks back (posted at the top of this page). The Giz crew says it created its mock-up based on an unnamed source's first-hand experience with the phone.
Samsung Nexus S: The Flickr Trail
The sharp-shooting gumshoes from Engadget also tracked down some pictures that appear to have been taken with Nexus S devices and then posted to Flickr and Picasa. According to Engadget, the photos all came from Google employees and are linked to smartphones with the model number GT-i9020. An FCC filing for that device includes a sketch that bears a noticeable resemblance to the phone seen in today's leaked images.
Samsung Nexus S: The Best Buy Clues
Best Buy has given us a couple of different clues about the Samsung Nexus S today. First, a banner appeared on the company's Web site advertising a "Pure Google" phone called — you guessed it — the Nexus S. Discovered by Android blog Phandroid, the banner stated that the Nexus S would be "available only at Best Buy this holiday season." It also featured a broken image with alternate text saying the phone would be offered on T-Mobile. Best Buy has since taken the ad down.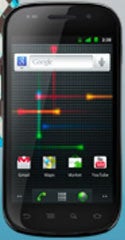 Another page on Best Buy's site, meanwhile, was later reported to be advertising a previously unseen Android device that matched the Nexus S profile.
There's more: Tech blog Android Police published what a tipster claims to be a snapshot of an internal Best Buy memo about the Samsung Nexus S. The memo references plans for the device to get its own dedicated display in Best Buy stores starting on November 14.
And finally, Phandroid published an alleged shot from Best Buy's computer system showing some of the specifics of the Nexus S phone.
Samsung Nexus S: Other Specs
So what about the other specs? Aside from what's already been mentioned, past leaks have predicted the Nexus S will have a 1.2GHz processor, a 5MP camera with HD video capture, 512MB of RAM, and 16GB of internal storage. The site that published those claims — Android blog AndroidandMe.com — also says the phone will eventually be available on multiple carriers.
Samsung Nexus S: About That Name…
While much of the blogosphere has now taken to calling the device the Samsung Nexus S (try saying that name three times fast), bear in mind that we don't actually know what this device will ultimately be called. Earlier leaks referred to the phone as the Nexus Two. The crew from Android blog Android Central, meanwhile, believes the gadget will be known as the Samsung Elite.
Until anything official is announced, there's really no telling what the formal and final name will be.
Samsung Nexus S: Timeline and Possible Delays
Previous rumors had predicted the Samsung Nexus S (or whatever it might be called) would launch at Samsung's mobile event on November 8. That obviously didn't happen.
According to TechCrunch — who we know would never publish unsubstantiated information — the Samsung/Google Android device was originally set to be launched "imminently" but has now been delayed due to some sort of hardware issue.
Samsung Nexus S: The Gingerbread Story
The other wildcard in this equation is the presence of Gingerbread, Google's latest Android incarnation. The Nexus S, as mentioned above, is expected to ship with Gingerbread already installed. So where is this tasty-sounding software treat?
Android Gingerbread was widely expected to launch this week, with some rumors pointing to today — November 11 — as the date to watch. The day isn't over yet, but the hours are quickly ticking by, and so far there's no sign of any official Android news. Remember, too, that we heard similar rumors of Gingerbread's pending debut back in mid-October; as that instance demonstrated, these leaks don't always pan out.
Whether it lands today or not, all signs do point to Android Gingerbread being almost ready for consumption. Google set up its official Android Gingerbread statue a few weeks back. If past Android releases are any indication, that's likely a sign that some sort of announcement is on the way soon.
As for the Samsung Nexus S, it sure seems like something's a-cookin'. As for what exactly it is and when we'll be able to get our hands on it, only time will tell…stay tuned.
JR Raphael is a PCWorld contributing editor and the author of the Android Power blog. You can find him on both Facebook and Twitter.