The war against Amazon selling controversial pedophilic materials isn't over. MSNBC found several product listings on Amazon that showed explicit photographs of naked underage children. The materials in question, both books and videos, depict prepubescent Eastern European and Asian girls, and are for sale on Amazon in the U.S. and Japan.
This discovery comes one day after Amazon conceded to public outcries and pulled The Pedophile's Guide to Love and Pleasure: A Child-Lover's Code of Conduct, a controversial e-book by Phillip R. Greaves II, from its Kindle Store. Some say the book condoned and instructed readers on how to engage in child molestation, and get away with it.
However — and without having a copy of the book at hand (big caveat there) — the book's summary does not appear to do either. As I delineated in an post published Thursday, the book may have been, in a way, misunderstood.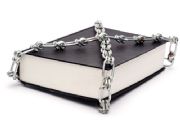 The books and videos for sale on Amazon that MSNBC found depict underage nudity and are classified as "naturist" or "nudist" materials and are not necessarily "pornographic." Naturism's philosophy and its general practice forbid child pornography and child molestation. Still, the social and political movement consistently walks on the fine line of lawfulness, and though nudism has had legal successes in communities such as Daytona Beach, more often than not the practice is shunned, mocked, or altogether banned.
Lawyer James Marsh, one of the key advocates behind Masha's Law, a federal law that gives victims of child sex abuse photography the right to sue producers, distributors and even those in possession of pornographic images of children, spoke to MSNBC. Marsh contends that Amazon should not use the First Amendment to justify marketing and selling nudist materials.
"It's not about First Amendment rights. It's about what material a good corporate citizen should be making available to the public. And that's the kind of decision Amazon should be making," Marsh told MSNBC.
It's important to note that Amazon did not, in fact, use the First Amendment as a defense in either the case against The Pedophile's Guide or in the naked images on its site. Amazon has not commented on the latter case.
Amazon did, however, use the First Amendment in 2002 when defending its right to sell Understanding Loved Boys and Boylovers. Though Amazon briefly took Understanding Loved Boys and Boylovers off its site, the book is currently available for purchase.
So where should Amazon draw the line — or should it draw any lines at all? Are the naturist materials pornography or just the expression of a subculture, one that has had numerous legal problems but has not yet been outlawed? If the battle against this kind of content continues — which some are labeling censorship — will it set a new standard for removing salable goods on Amazon?
A tricky issue, to be sure. We'll have to wait and see how Amazon reacts to this particular case.