Hey Facebook fans, rumor has it you may be getting e-mail addresses ending with "@facebook.com" as early as Monday. It's a thought that likely has privacy advocates cringing as even more user data would fall under the control of the world's largest social network.
The rumored service wouldn't be just an updated version of Facebook's currently pathetic Inbox, either, but an actual Webmail client to compete with services such as Gmail and Hotmail, according to TechCrunch. Code-named Project Titan, the new e-mail service is expected to be announced Monday at a special Facebook press event during the Web 2.0 Summit in San Francisco.
Rumors of a Facebook e-mail service first surfaced in February. At the time, it was suggested that your Facebook vanity URL might be automatically assigned to you as your @facebook.com e-mail address.
Facebook Invitation Hints
Adding credence to TechCrunch's report are two features in Facebook's press invitation suggesting Monday's event is all about messaging. The invite features Facebook's Inbox/Messages icon used in its mobile phone applications. The invite also fea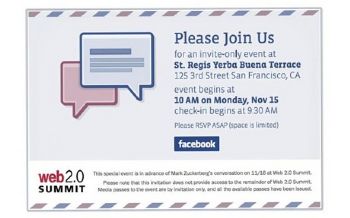 tures a red and blue border similar to an airmail envelope.
Of course, an e-mail inbox isn't the only possibility for a messaging-themed Facebook event (assuming the decorations on the invitation are actually hints). On Wednesday, GigaOm theorized that multiuser group chat will soon be integrated into Facebook's smartphone applications. The technology blog didn't mention Monday's event as a possible launch date, only guessing multiuser chat will launch "within months."
Facebook E-mail Equal Privacy Headache?
If Facebook Webmail is coming Monday, it will likely be welcomed by a large number of Facebook users. But a Facebook e-mail service is almost certain to cause concern among privacy advocates. Using Facebook for Webmail would put even more of your data in the hands of the social network. And the company would almost certainly mine your messages for keywords to better target advertising at you, similar to what Google's Gmail does now.
There may also be concern that Facebook would control, and possibly block, e-mail messages flowing through its servers. In early 2009, torrent site The Pirate Bay introduced a new feature that let Facebook users send each other links to torrent files through Facebook's Inbox messaging service. It didn't take long before Facebook started blocking private messages containing torrent links, according to Wired . At the time, Facebook argued it had the right to block this content since the company forbids its members to use the service for unlawful purposes such as disseminating copyrighted material. Facebook can also be overly aggressive with its anti-spam filtering, which could hamper use of a Facebook e-mail service if you start sending too many e-mail messages at once.
Facebook will also have to convince users their e-mail won't be locked into the social network's Webmail client. The most obvious way to allay those concerns would be to provide POP and IMAP access allowing you to send and receive Facebook e-mail through a desktop client such as Outlook or Mozilla Thunderbird.
But data portability is not Facebook's strong suit, as the social network proved earlier this week during its fight with Google over Facebook's refusal to let users export their friends' contact information.
Then again, Facebook improved its attitude toward data portability in October when it launched an export tool that lets you download almost all of your Facebook data directly to your desktop.
Does Facebook Have E-mail Mojo?
Another question is whether Facebook can offer an e-mail service that has enough compelling features to compete with other popular Webmail services. Google's Gmail, for example, is particularly innovative, offering handy features such as Priority Inbox, filtering and labels, keyboard shortcuts, voice calling and a recently revised and improved contacts manager. If Facebook offers a plain vanilla Webmail service that tries to boast of robust spam filtering as a user feature, then it may have a tough time convincing users to switch.
If Facebook does launch a Webmail service, it will certainly be good timing. Market research firm Gartner recently predicted that "20 percent of workers will use social networks as their primary vehicle for business communications by 2014." Facebook e-mail would fit into that scenario perfectly.
I guess we'll have to wait until Monday to see what Facebook has in store. In the meantime, you might want to get your Facebook Web address set-up just in case Facebook's rumored e-mail addresses are automatically assigned by URL.
Connect with Ian Paul (@ianpaul) and Today@PCWorld on Twitter for the latest tech news and analysis.