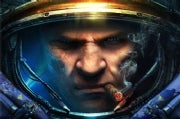 I hope you're all rested up from MLG Dallas, because the Global Starcraft League finals are this weekend, and you won't want to miss a chance to watch two top players battle it out for $87,000.
Global Starcraft League Finals: Boxer vs. NesTea
Jung-Hoon "Boxer" Lee will take on Jae-Duck "NesTea" Lim on November 13th for the first place crown, bragging rights, and about $87,000. If you're not hyped, it's probably because you didn't watch Boxer vs. Kyrix in the round of 8, where Boxer beat Kyrix's Baneling-heavy army with some incredible Marine management (replay). Or maybe you missed NesTea coolly dismantle Yo-Hwan "SlayerSBoxer" Lim's tricky early openings in the NesTea vs. SlayerSBoxer round of 4 match (replay).
So who's going to win it all?
NesTea has only played against two Terran players: Chan-Min Kim in the round of 64, and SlayerSBoxer in the round of 4. Despite SlayerSBoxer's hype (and $180,000 sponsorship), NesTea absolutely steamrolled him 4-0. However, SlayerSBoxer didn't play against any Zerg players in the earlier GSL rounds, so it's entirely possible that the 4-0 loss has less to do with NesTea's skill and more to do with SlayerSBoxer being weak to Zerg players. Boxer, meanwhile, has had plenty of tournament experience against excellent Zerg players; he beat last season's champion Won-Ki "FruitDealer" Kim in the round of 32.
However, Boxer was largely an unknown quantity going into this tournament, and his games against Kyrix were very close. What's more, Boxer won't have the advantage of surprise in this series–while spreading his Marines thin worked well against Kyrix's trademark Baneling army, it's entirely likely that NesTea will have spent the last week practicing for a Boxer's Marine strategy.
Boxer vs. NesTea will be showing at 6PM Korean Standard Time, which is about 1AM Pacific. You can stream it live from gomtv.net.
Interview With EG.Machine

If there was an award for Most Underrated Player in Starcraft II, it would probably go to Bryce "Machine" Bates (Zerg). After flying under the radar during the early months of Starcraft II, he's been on a tear over the last few weeks, beating Chris "HuK" Loranger 2-1 in a showmatch and placing 6th in MLG Dallas last weekend. We were lucky enough to take a minute of his practice time and ask him about his MLG performance.
How'd it feel to get revenge on iNControL? It felt great and terrible at the same time. It is never fun playing a teammate, we both knew the others play style so it was a lot of mind games, I had done some things that I knew he would least expect from my style and it ended up working. I think that beating iNControL was the step that I needed in order to start climbing my way through the tournament. He had beaten me in the previous 2 MLG's (Raleigh and D.C.) so it was nice to get some revenge.
What were you practicing for when you practiced for MLG Dallas? Before MLG I spent the majority of my time practicing for Terran, I had been struggling with this match-up in particular due to a lack of Terran practice partners. So I recently found some good Terran players to practice with and hammered out some solid builds to use in Dallas.
Are you changing anything after losing to TT1, LiquidTyler, and TLO? Yes, both TT1 and LiquidTyler did an expand into 6 gate warp rush timing that I was not prepared for. Being in a tournament and not having experience against a new build such as this was extremely frustrating. I really did not have any builds to judge it against so it was hard for me to deal with. Since then, I've been working on counter builds and ways to scout and punish this build in particular and will be ready next time. After studying my series vs TLO I realized there was not really too much to adjust. I made one wrong read in particular and it lost me a very close series, nothing too major.
What's your weakest matchup overall? My weakest match-up would have to be Zerg vs. Protoss. I do not quite have all of the counters and scouting times down but hopefully soon I will.
What does your practice schedule look like? Is this your day job? Generally I spend around 8 hours a day of practicing, sometimes up to 16 before a tournament. Starcraft 2 is my life. When I am not practicing, I coach Starcraft 2 to help pay bills so that I can spend more time practicing.
What's your take on the Zerg vs. Zerg matchup? Zerg vs Zerg seemed to be a game of Roach-Paper-Scissors* at first. but now that the match-up is being hammered out it looks to be a very interesting match-up. It is less forgiving than the other two match-ups, which can make it frustrating at first, but overall I really enjoy it.
(*Editor's note: That's either an awesome typo or an awesome pun. Left it in for you to decide.)
Fill in the blank: I can't believe Blizzard hasn't patched _____ yet.
I cant believe Blizzard hasn't added LAN yet.
Next Page: Pro Starcraft 2, The Movie–sort of…
Professional Starcraft 2, The Movie
French professional Starcraft league eGG-one has released a mock movie trailer about professional Starcraft II.
Sadly, there is no feature-length film in the works. Instead, they're promoting their upcoming 16-man, 2-month long competitive season. We'll keep you updated on the season progress–and the $4900 prize–but you can stop by the eGG-one home page (French) for more information.
Explaining the Game: Map Selection, Veto, And Rush Distance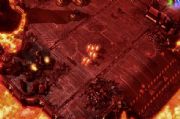 Map selection is an integral part of Starcraft strategy, but it's easy to miss in the middle of a hectic game. Here's what to look for.
The map pool for a tournament typically consists of 1v1 and 2v2 maps. Usually, they're drawn from the maps Blizzard has chosen for online Ladder play, but sometimes tournaments will include older maps as well–MLG Dallas, for example, included Kulas Ravine, which has been phased out of Ladder play. Depending on the tournament format, players are sometimes allowed to veto a map they feel weak on.
1v1 maps are generally smaller than 2v2 maps, which often encourages players to attack early and expand a little bit later. Since players don't have to scout to find their opponent's starting location (like they do with 2v2 maps) and the walking distance between both bases is somewhat short, the Defender's Advantage isn't quite so significant and it's harder to expand early.
There are a few exceptions, however: Scrap Station and Desert Oasis (no longer in Ladder play) both feature rather roundabout walking paths to the enemy base, which makes attacking by ground difficult and benefits highly mobile armies.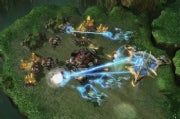 2v2 maps, on the other hand, are more conducive to longer, macro-heavy games, since there are more bases, the maps are larger, and you have to scout around early on to find your opponent, which makes it harder to open with early proxy Barracks and other sneaky tactics. Of course, this means that players with weaker micro skills will want to end the game even earlier, since macro-oriented players have more resources to take advantage of on 2v2 maps.
(Read our previous eSports Update articles for explanations of micro/macro and Defender's Advantage.)
Tidbits
Liquid'Nazgul explains why his Blink Stalker play sent Greg "IdrA" Fields to the Loser's Bracket at MLG Dallas.
Taiwanese pop star Linda "Pikachu" Liao took first place in the ESL Female Cup. Read the translated interview by Blizzard Entertainment here.
Follow GeekTech on Twitter or Facebook, or subscribe to our RSS feed.