It's no secret Lenovo has its eye on the tablet market, and now China's biggest PC manufacturer appears ready to challenge Apple's iPad in the U.S. The company's LePad, an Android-based slate announced in July, will arrive stateside next year.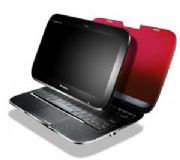 According to a report in Friday's Wall Street Journal, Lenovo CEO Yang Yuanqing has confirmed the LePad will sell in the U.S. The tablet will join an increasingly crowded market, including the popular iPad and the Samsung Galaxy Tab, which may ship in both 7-and 10-inch models by the time Lenovo's slate arrives. Other competitors include Research In Motion's PlayBook and Dell's Streak.
Yuanqing, who didn't announce the LePad's price, said his company is debating whether to use Google's Chrome operating system on its portables, the Journal reports. But given the vaporous nature of Chrome OS, a browser-based operating system that stores all of a computer user's applications and data online, it seems likely that LePad would run Android, at least initially.
In addition to LePad, Lenovo has several tablet designs under development. Its IdeaPad U1, a Windows laptop with a detachable touchscreen that functions as a standalone Linux tablet, debuted in January but won't ship until next year. The U1 was originally slated to ship in June and cost about $1000. But it was put on hold when the tablet didn't meet Lenovo's quality standards, according to IDG News reports.
Lenovo in February introduced the ThinkPad X201 Tablet, a business-oriented Windows laptop with a 12.1-inch display that rotates and sits on top of the keyboard for data entry.
Contact Jeff Bertolucci via Twitter (@jbertolucci) or at jbertolucci.blogspot.com.