Hewlett-Packard's Windows 7 tablet called the Slate 500 is now on a six-week back-order waiting list, as the company saw "extraordinary demand" for the device since it went on sale a month ago. Although HP says on its website that sales have so far "exceeded expectations," a report claims that only 9000 devices have been ordered in a month, and just 5000 tablets were manufactured so far.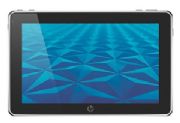 HP started selling the $800 Slate 500 tablet in the U.S. from its website and channel partners on October 22, but demand for the tablet has been weak so far, according to a report from tech blog Engadget. The report claims that HP initially ordered 5000 tablets, and saw orders of 9000 devices. HP is yet to confirm these figures.
The Slate, a Windows 7-powered tablet with an 8.9-inch display and two cameras (front and back), was initially aimed at consumers, but HP decided in a swift move to target it at business customers who need a mobile computer running Windows OS and Microsoft's Office productivity suite. The tablet also supports Adobe Flash technology.
However, in the ten months running up to the launch of the Slate 500 (it was introduced in January), HP tried to hype its tablet as an iPad rival, playing on strengths such as two cameras, additional USB slots and Flash support. But by the time HP put out the Slate 500, the company decided to chase the business market, avoiding a head-to-head clash with the iPad.
Avoiding a direct fight with the iPad was probably wise for HP. Apple's iPad has averaged more than 46,000 devices sold daily, which is over five times more than the orders HP received in total for the Slate 500. Apple sold 300,000 iPads on its launch day in the U.S.
So what is the difference between a business and a consumer tablet, besides marketing strategy? As my colleague Tony Bradley explains, in terms of the features and capabilities of the actual devices there is no clear difference among, say, the iPad, Samsung Galaxy Tab, the Slate 500, and the upcoming PlayBook from RIM (see these tablets compared).
HP is now expected to unveil in early 2011 a consumer-oriented tablet based on WebOS, the operating system it acquired when it bought Palm earlier this year.
Follow Daniel Ionescu and Today@PCWorld on Twitter