By limiting friends lists to 50 people, Path aims to be an antidote to Facebook. That's not an easy task, and my colleague Brennon Slattery is understandably down on the idea.
But I prefer optimism, and Path's "no following, no friending" approach is innovative, at least. Here are some ways that Path can be a valuable alternative or addition to Facebook:
Be Creepy …
During registration, Path demands your phone number, ostensibly as a way for friends to find you. It's also a reminder that a network of your closest contacts doesn't require you to filter out information.
Another example: Path tells you who has looked at your latest photos and whereabouts. As Path expands, it should continue to push the boundaries of what a social network automatically shares.
… But Build Trust
Path's guiding principle is that everyone who's sharing trusts one another, but can Path itself be trusted?
The site's privacy policy says it may use personal information to serve ads, as you might expect on any social network. Problem is, Path gets more personal than Facebook or MySpace. Users need explicit assurances that some sleazy marketer isn't going to harvest phone numbers and mailing addresses from the site.
Don't Fear the Facebook
The reality is that Path won't kill Facebook, because people like connecting with old friends or new acquaintances. Instead of pretending that Facebook doesn't exist, Path could act like a launching point by allowing users to send their photos or status updates along to Facebook. You start with your inner circle on Path, then expand outward.
Add Features
Photo-sharing is a solid foundation, but pretty soon Path will have to expand to allow more kinds of communication. I'd like to see text-based status updates, Google Latitude-style location sharing and photo comments (visible only to mutual friends).
Let People Know
People won't use Path if they don't know it exists. Currently, when I add a contact who isn't signed up, that person doesn't get notified, and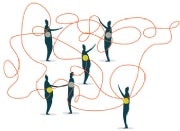 it seems like a missed opportunity.
I'm not saying Path should automatically spam people, but at least give users the option to send friends a notification e-mail, encouraging them to sign up.