Samsung's Galaxy Tab has only been out a few days in the United States, but already the benefits of its open source roots are becoming evident. Specifically, Samsung has released the open source portions of the software code used to run the device, opening up the doors to a potentially exciting array of third-party modifications and enhancements.
Not all of the software on the Android 2.2-based Galaxy Tab is open source, of course, but the portions that are free are now available by clicking on "Mobile" on Samsung's Open Source site. There, interested developers can find versions of the code for the Verizon, T-Mobile and Sprint releases of the Galaxy Tab available in the United States, as well as for Southeast Asia, Hong Kong/Taiwan, Brazil and beyond.
"Android is open-source software, which means anyone can make the operating system better," Samsung notes on its Galaxy Tab site. "That way, you benefit not only from the knowledge of Google developers but that of third party developers too."
Samsung's release of the code was apparently first uncovered on Sunday in the Android Central forums.
Focus on Flexibility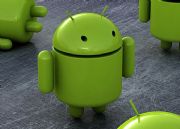 The widely anticipated Galaxy Tab gains much from its use of Android and the Linux operating system Android is based on, as I've noted before, and these benefits are particularly striking when contrasted with Apple's iPad, which is currently the device's primary competitor.
Superior security and greater choice in carriers and available apps, for instance, are among the most notable of those advantages over the iPad, which is tightly closed and restricted via Apple's "walled garden" approach.
Now, with the release of Samsung's source code–a standard part of using open source software–the customization can really take off. Not just consumer-focused professional developers but also business users can now tailor the Galaxy Tab's software to suit their own, specific needs, making the device a far more flexible option for enterprise use.
The Relevant Files
Interested in doing a little Tab-hacking for your business? Here are the relevant .zip files on the Samsung site, according to Android Central:
* US/Verizon: SCH-I800_OpenSource.zip
* US/T-Mobile: SGH-T849_OpenSource.zip
* US/Sprint: SPH-P100_OpenSource.zip and SPH-P100_OpenSource_Update1.zip
* Southeast Asia: GTP1000_SEA_OpenSource.zip
* Hong Kong/Taiwan: GT-P1000_HKTW_OpenSource.zip
* Brazil: GT-P1000L_Latin_OpenSource.zip
* International: GT-P1000_OpenSource.zip
Let the customization begin!
Follow Katherine Noyes on Twitter: @Noyesk.