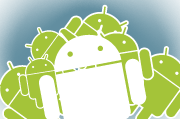 Google CEO Eric Schmidt says smartphones will soon support "bump" technology and mobile payments. These new features will be part of the new version of the Android operating system (2.3, Gingerbread), the release of which could come as soon as this week.
Schmidt came on stage at the Web 2.0 Summit in San Francisco on Monday, with a mystery phone running a new version of Android (which may have been the as-yet-unannounced Nexus S). He bumped the phone to wake it up, and phone immediately located itself and began providing information about the hotel.
In one scenario, Schmidt described how a smartphone user would walk down the street, and instead of typing terms into search, the phone would constantly present detailed information about nearby places.
Android will soon support mobile payments (starting with Android 2.3), and some future Android phones–the Nexus S might be the first–will contain NFC (near field communication) chips. NFC chips can effectively turn your smartphone into a credit card of sorts by broadcasting data to other NFC-speaking machines. For example, you would be able to walk into a store, "bump" your phone on a NFC sensor there, and pay for your goods without having to pull out a credit card or cash. Some retailers may start accepting smartphone payments as early as next year.
Google says that it is using "bump" in many different apps and functionality, allowing the user to physically bump their phone into another phone or another device to convey information or data.
Schmidt says that Android 2.3 should appear "in the next few weeks." We will have a complete review of Android 2.3 when it becomes available.