At a Glance
Expert's Rating
Pros
Intuitive interface that's optimized for reading
Display produces good colors and minimal glare
Cons
Requires proprietary microUSB charger
App store not coming until 2011
Our Verdict
Highlights of this premium e-reader include an intuitive, elegant interface and an LCD screen with minimal glare.
In the early, heady days of e-readers, the term "e-reader" was synonymous with an electronic paper-based device. The Barnes & Noble Nook Color Reader's Tablet explodes that narrow definition: The first LCD-based e-reader optimized around reading, the Nook Color ($249, price as of November 16, 2010) delivers a superbly integrated, largely satisfying, and (for now) unique e-reading experience. Better yet, it has the potential to deliver far more as Barnes & Noble's library of periodicals and children's books grows.
Not Just a Tablet
Following the recent release of the Samsung Galaxy Tab, much attention surrounds the growing tablet market. And it would be easy, at first glance, to mistake the Nook Color for a tablet. After all, a 7-inch capacitive touchscreen dominates the front surface; and inside it runs Android 2.1 and a Texas Instruments Omap3 series processor. It also has a MicroSDHC card slot to accommodate up to 32GB of storage, and a generous 8GB of user-accessible onboard storage–enough space to support a mix of material (Barnes & Noble gives the example of 1000 books, 25 full-color magazines, 10 newspapers, 50 kids' books, 500 songs, and 150 photos).
The device resembles the Galaxy Tab to some extent. It's solidly built, with well-formed buttons, a dark slate-colored bezel, and a black, rubberized back. It is 8.1 inches tall by 5 inches wide by 0.5 inch deep (technically, it measures 0.48 inch deep to Galaxy Tab's 0.47 inch). And it weighs 15.8 ounces–2.2 ounces more than the Samsung Galaxy Tab; 4.2 ounces more than its own monochromatic predecessor, the Nook Wi-Fi; 7.3 ounces more than the third-generation monochromatic Amazon Kindle; and 8.2 ounces less than the 9.7-inch screen Apple iPad.
In Video: Barnes & Noble Upgrades Nook Color e-Reader
But when you turn on the display and compare Nook Color to other slate devices, it quickly becomes clear that Barnes & Noble isn't merely paying lip service to the notion of a creating an LCD device optimized for reading.
Display and Interface: The Secret Sauce
After reading content on the Nook Color for extended periods, I found that the device takes the concept of an e-reader to another level. The Nook Color's display and its intuitive interface form an extraordinary one-two punch. The display employs an in-plane switching (IPS) panel, just as the iPad does, to provide a wider viewing angle and better color reproduction than standard TN LCDs. And like the iPad, it supports 16 million colors. The Nook Color's 1024-by-600-pixel display carries a pixel density of 169 pixels per inch (PPI); the pixel density can affect how letters appear on the display. In use, letters looked very readable–similar to those on the Samsung Galaxy Tab, and far better than those on the iPad's 132 PPI, but not quite as distinct and smooth as those on the Apple iPhone 4, which has 326 PPI.
Barnes & Noble took other specific steps to optimize the display for reading. The screen has a special lamination and an optical bonding process that eliminates the air gap between the display and touch surface, a process the company says reduces glare and provides better efficiency in direct sunlight.
That was precisely my experience: The viewing angle was better than on other tablets, an important point given that the company's NookKids encourages the idea of using the device to read picture books to children. As for the display, I performed multiple tests in various lighting conditions-in a car, on a train, on a deck, indoors but by a window, by a lamp, in a restaurant's ambient light-and time and again, Nook Color handled the glare impressively.
Under conditions where the Galaxy Tab or iPhone 4 were essentially unreadable mirrors, the Nook Color could, at least, be seen. I wouldn't have read the final volume of Harry Potter on it, but I could see well enough to navigate around, and to read for short stints. And in most circumstances, I found the screen dramatically easier to read than other touchscreen devices I had on hand. Again, it's not as good as E-Ink, and Barnes & Noble has by no means eliminated LCD glare; but the screen goes far toward mitigating the effects of glare, and this is a critical accomplishment for a device designed for reading.
The Nook Color's interface is the other standout component here. Though it runs Android 2.1 underneath, the software skin looks and behaves nothing like stock Android. From the typefaces to the menu behavior, the Nook Color's operating system is well matched to the Nook Color's functionality.
From the moment you turn the Nook Color on, it's as if you had booted directly into a customized, all-encompassing e-reader app that controls all aspects of the user experience–even when you stray beyond the reading-specific parts of the device.
Pressing the power button at the top left of the device boots up the standard sleep screen, which includes a clock displaying the time and date. Unlock the screen by sliding the arrow to the right (as on most Android devices), and you'll land at the home screen. You can return to the home screen at any time, or wake the device up, by pressing the cut-out 'n' button beneath the screen; this is the only button on the front of the device; the aforementioned power/sleep button and volume buttons run along the upper right edge.
Immediately, the smooth, customizable Nook Color interface is in view: The Home screen has three versions that you can horizontally swipe through, and you can drag book and periodical covers from the Daily Shelf ticker (which runs horizontally along the bottom of the Home screen) into the Home screen itself, positioning covers wherever you like (for example, you can even overlap them). The default wallpaper shows a transparent montage of book covers and periodicals, but you can easily change the wallpaper by pressing and holding on the Home screen, and then either choosing from the provided wallpapers or using your own image. The 'clean up panel' option will separate overlapping covers and snap them into a grid.
As its name implies, the Daily Shelf refreshes with subscriptions, most recent purchases and borrowed books, organized with the most recent acquisitions showing at left, and older content available as you scroll to the right. The 50 most recent titles fitting this filter will appear here, though you can delete them and even reorder them if you so choose.
Along the top, the Home screen gives you the option of selecting the content you were most recently reading; or, by tapping More, you can choose from among your three most recently read books, periodicals, and files (be they stored on the device or on the memory card). At the bottom of the screen sits an open book icon, which also returns you to the item you last read, as well as a battery meter and clock at right. Tap the arrow in the center to reveal the navigation bar, similar to the bar found the original's Nook's narrow color screen.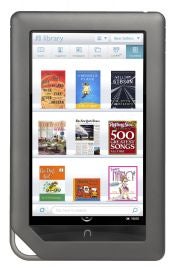 The navigation bar gives one-touch access to your library of books, the Nook store, search, extras (for authorized apps), the Web browser, and device settings.
The Library provides easy-access to books, magazines, and newspapers; and, to books you can lend to friends, and borrow from friends. Plus, you can create your own collection, or "shelves," and view your files you've stored on the SDHC card or in memory. For example, I downloaded a PDF from the Web, and it was stored in my downloaded files. Nook Color supports a variety of file formats, including PDF, ePub, and text files; JPG, PNG, GIF, and BMP image files; MP4 videos; MP3 and AAC audio files; and Microsoft Office files (Word, Excel, and PowerPoint).
The extras are for now limited, but it's where you can store apps that will eventually be accessible via Nook's app developer program. For now, you get three games–chess, crossword puzzle, and Sudoku–contacts, photo gallery, music player, and Pandora Internet radio.
Art of Reading
Barnes & Noble's attention to detail became apparent as I moved amongst Nook Color's elegant menus and options. The interface makes sense for reading, with emphasis on how the visual organization complements the navigation and content.
For one thing, the company has eliminated the standard back and settings buttons found on typical Android devices; and it has no physical navigation buttons beyond the "n" for Home screen. As such, Nook Color relies heavily on tapping in specific spots for navigation controls.
For example, tap to open a book; then, to turn pages, tap on the right or left edge of the screen, or swipe from side-to-side. Books can only be viewed in portrait view (though, children's picture books are shown landscape, and Web pages, PDFs, and other files can be shown in either orientation). Nook Color lacks the curling page-turning graphics found in Apple's iBooks, but no matter–page turning is fast and efficient. Sometimes, though, I found it too fast, since I occasionally managed to scoot a page ahead of where I intended to be.
Tapping at the bottom of the book screen activated the convenient, in-book quick-nav bar. From here, you can access the contents, search for a passage of text, share content, change the text display options, and adjust the brightness. It also brings up a progress bar that shows where you are in the book.
The contents section actually stores the table-of-contents as well as any notes and highlights you've added. And adding notes and highlights is a pleasant, simple experience-a first among the e-readers I've tested to date. Tap and hold in the vicinity you want to do something with; and up will pop four icons, one each for highlighting, add notes, sharing (with contacts, or via Facebook or Twitter), or look up the word in the built-in dictionary (with links below the definition to lead to the related Google search page or Wikipedia entries in the Web browser; the back button on the browser will then take you back to your book). You can even change the color of the highlighter (green, blue, or yellow), and add a note to go along with the highlight.
The text options are many, with six choices each for text size, fonts, spacing, and background color (choose among normal, a dark gray, light gray, butter, mocha, and sepia). The brightness control is standard, but sadly lacks any tie to the various background colors or optimization for your environment.
Wherever you are in reading, Nook Color saves your position, and syncs with the cloud, so that you can return to this content on any Barnes & Noble Reader, regardless of the platform. The device also syncs bookmarks, notes, and highlights as well.
Magazines That Retain the Feel of Print
One of the reading innovations in Nook Color is how it handles periodicals. Here, the emphasis is on consistent presentation and navigation. Over 100 will be available, for single, 14-day trial, or subscription orders.
The magazines start with a PDF, reproducing the visual and graphical layouts that make magazines what they are. The company then does an extra layer of production on top of the PDF, to allow you to zoom in to PDF to read a page, or select an article view option for viewing articles in a column that pops up in the center of the screen. You can then scroll down to read that full article, or swipe horizontally to move among articles. As with books, there's a table of contents as well.
While this approach is intuitive and a clever way to recreate the feel of a magazine on a 7-inch screen, I found that the navigation was very sensitive and required a precise touch. I often ended up switching articles when I simply intended to scroll down; or, scrolling when I intended to switch.
NookKids
With over 130 picture books, and double that number planned by the end of 2010, Barnes & Noble launches Nook Color with an engaging, albeit proprietary, approach to storytelling for children.
Picture books automatically launch in landscape mode. Swipe left to right or tap on the edge of the screen to change pages. And to enlarge the text so it's more readable, just tap a paragraph to call up an enlarged popover text box.
Some books have a "read to me" option. No computerized voices here; rather, it's much like an audio book, just one that's reading the content aloud as you move through each page. Titles that have the read to me option also let you pick a passage of text and play just that passage to hear the words.
In addition to the picture books, the company also has some 12,000 children's chapter books. So far, there's no Little House on the Prairie, but there's plenty of other kid-friendly titles on-hand.
Close, but a Few Gotchas
Even with so much worthy of accolades, Nook Color has room for improvement, too. My biggest gripe lies with the unit's MicroUSB port. The port has a second set of pins that provide a 2000mAh (or 2-ampere) rapid charge for the 4000mAH battery. (That's four times the mAh of most typical consumer electronics.)
Unfortunately, the benefit of the rapid charge–and it's fast, I was surprised by how quickly Nook Color juiced up–is offset by the need to use only the included charger and cable in order to power the device. Sure, the charger has pleasing, subtle touches like an outlet plug that collapses into the compact brick, and a glowing Nook "n" that shows its charging status; but it's the only source of power. If you use a cable other than the one supplied, you can only transfer data. At the least, Barnes & Noble should have allowed for a trickle charge, just as you get on the Apple iPad. Want an additional charger? That'll be an extra $25. As for the battery, the company says it should last 8 hours.
Also on my hardware wish list: I'd like to see a higher pixel depth, so the text quality is closer to that of Apple's iPhone 4. The book text is better than the browser text, and the bottom line is that both views could improve with additional pixel depth.
A few of my gripes could conceivably be fixed in future firmware updates. Already, Barnes & Noble says it plans an update to Nook Color to an Android version that supports Adobe Flash via the Web browser "sometime next year." For now, YouTube videos will play via the browser, but they look choppy and full of artifacts. I also wish that you could just tap on the battery icon and pull up the current battery life. PDF handling could be improved, as well; you can't just tap at right or left to page through books, but rather have to page by swiping up or down.
The revamped Nook store is light-years better than before, and it bests its competition with a graphical approach and easy searching. But I wish the search results, navigating while inside the shop, and moving among selections, proceeded more smoothly.
Bottom Line
By launching with 100-plus strong collections for its periodicals and children's books, Nook Color makes a strong case for the color e-reader, and it does so in a far more compelling way than any other device has so far. Still, for all of its screen enhancements, I wouldn't suggest an LCD e-reader like Nook Color if you will primarily use it outside in direct sunlight. But for anyone else, Nook Color is a worthy contender–especially for those who want to consume books, periodicals, kids' fare, and PDFs.
Barnes & Noble's Nook Color succeeds in combining much of the readability of the E-Ink based e-readers with the speed, customization, and graphical advantages of the LCD-based e-reading apps on competing touch screen devices, phone or tablet. And at $249, Nook Color even has limited viability as a reasonably priced, contract-free tablet for those who prize reading and Web surfing above playing games and downloading apps.