Rumors are flying that the rights holders of The Beatles recording catalog have finally decided to let it be and sell The Beatles albums on iTunes. That's the speculation, based on anonymous sources "familiar with the situation" who talked to The Wall Street Journal . The report followed a teaser on Apple's home page that said, "Tomorrow is just another day. That you'll never forget." Possibly a nod to Paul McCartney's first solo hit, Another Day, which was written while McCartney was still with The Beatles.
If the rumors are true, it would put the end to one of the most popular Apple-related rumors, and a complicated history between The Beatles and Apple. We won't know for sure until 10 a.m. Eastern time today when iTunes will let us all in on its secret.
While this isn't the first time The Beatles have been rumored to come to iTunes, it certainly looks more promising than it did in 2009 or 2008 or 2007 or 2006.
But there is some conflicting information out there as well, so don't bet the farm yet.
Scoops or Controlled Leaks?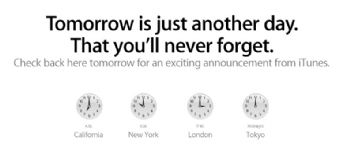 The fact that The Wall Street Journal has the scoop suggests this might be the real thing. The Journal tends to be right about Apple rumors, especially when the paper reports it a day or two before a big Apple event — I'll leave you to ponder why that is.
The Journal was a big driver behind the iPad rumors this year and the iPhone 4 leading up to Apple's summer announcement. The Journal is also one of the big drivers behind the current Verizon iPhone rumors, although we won't know for sure if the Journal got that one right until January.
But then there's Yoko
The strange thing about is that as recently as August, Yoko Ono — John Lennon's widow and a major rights holder of The Beatles recording catalog — appeared to dash hopes of the Beatles coming to iTunes. Speaking to Reuters about the Beatles on iTunes, Ono said, "Don't hold your breath … for anything." Ono then went on to say the shareholders in Apple Corps (The Beatles' recording company) were "holding out."
Ono didn't say what the delays were about, but other reports have suggested sticking points include fears about illegal file sharing and Apple's 99-cent per track pricing.
That said, The Beatles rights holders have been experimenting with making music digitally available. Last December, EMI released a collection of remastered The Beatles albums on a special edition USB drive. In September 2009, The Beatles also came to video game consoles with a Beatles-centric edition of Rock Band.
It's about time The Beatles came to the iTunes Store, but is today finally the day? Only a few hours until we know for sure.
Connect with Ian Paul (@ianpaul) on Twitter.