Facebook announced Monday that its new messaging system is blurring the line between e-mail and social networking, but that decision is the worst thing that ever happened.
Facebook said it will slowly be rolling out the new, improved, email-esque messaging system over the next few months. While Facebook's Mark Zuckerberg says that the new messaging system is far from a replacement for e-mail, it's also a little too close for comfort.
Here's why you should run, as fast as you can, away from Facebook Messages:
You Can't Delete Messages
Hear that? It's the sound of your worst nightmare coming true — you will never, ever be able to forget that awful drunken text message you sent to your ex-boyfriend last New Year's Eve (because, hey, text messages and chat messages are all integrated!), because you cannot delete Facebook messages.
OK, to be fair, Facebook does say that, while you can't delete individual messages, you can archive or permanently delete entire threads. If you archive the thread it will still exist (you're basically just hiding it), but if you delete it, it will be gone forever. Or, well, so Facebook says — for all we know, when you try to delete a conversation thread, your friend's picture will pop up with a note that says "Lisa will miss this message if you delete it :("
Non-Facebook Friends Can E-mail You
So, this wouldn't be such a bad idea if, you know, I didn't already have a completely valid e-mail address, which my non-Facebook friends can use in order to communicate with me.
Let me tell you a story: not too long ago, I uploaded some photos of my trip to Medellin, Colombia, to Facebook. I then tried to send the album to my mother (using Facebook's "share" feature — where it says something to the extent of "Go ahead, share these photos with your non-Facebook friends!"). My mother was then required to sign up for Facebook in order to view my photos.
Moral of the story: if Facebook ever wants someone's e-mail address (under the pretense of "sharing photos" or "sending a message"), it's so the site can bully more people into joining. Don't fall for it.
There Are No Subject Lines
Facebook is trying to sound all casual and cool by omitting pesky "formalities," such as subject lines. Instead, all of your communications with any one person will be bundled into one GIANT thread of e-mail, text, and chat communication.
Oh. Dear. Lord.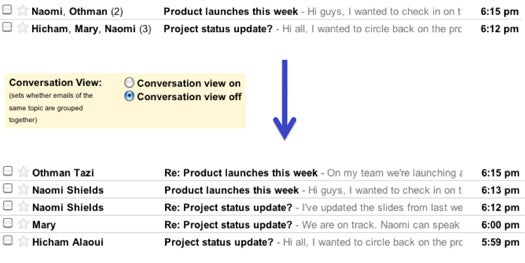 I have a hard enough time hunting down important e-mails in Gmail — and that's with all of the advanced search options Google provides. I cannot even begin to imagine what a pain it would be to find things in a single, unbroken thread. Not to mention that I can't imagine that Facebook's search is anywhere near as comprehensive as is Google's or Yahoo's (thanks to Google and Yahoo being primarily, you know, search engines).
Automatic Friendships
When my mother joined Facebook (in order to see my photos; I helped her delete the account later), she was automatically added to my Facebook friend list. Now, let me tell you something: my Facebook is under lock and key. Every couple of days I go in and tweak the privacy settings, just to make sure that Facebook hasn't pulled a fast one on me. But all I had to do was send my mother one thing and she was automatically granted full access to my Facebook account.
So, just think about this scenario for a second: you send an e-mail from your Facebook e-mail account to your boss. A client. A prospective employer. Your grandmother. And they can sign up for a Facebook account and see everything you've posted.
Look, there are a lot of other reasons not to use Facebook messaging: privacy concerns (Facebook will now have all of your information and all of your e-mails), the opt-out, not opt-in policy (if you create a Facebook e-mail address, by default everyone will be able to see it and e-mail you … it's up to you to change the settings), etc. Also, none of its "pros" are really pros — spam filters, conversation threads, @domain.com e-mail addresses?! OMG, nobody has ever thought of those before.
But if you're still interested, by all means go ahead and request an invitation.
Follow Sarah on Twitter (@geeklil) or at sarahpurewal.wordpress.com