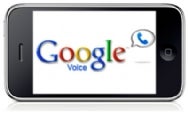 Google Voice is finally available for the iPhone.
After Apple rejected the app this summer and changed its mind this fall, the software is once again available for download from Apple's App Store. Unlike a lot of iPhone apps, however, Google Voice–which is only available in the United States–won't work on the iPad.
Google announced the app's availability a week ago, but it didn't get much notice until this week. Until now, iPhone users hungry to use Google Voice had to use a web app released by the search giant earlier this year, but the native app takes the offering to a whole new level, according to Google Software Engineer Christian Brunschen.
All the services Googlers love on Voice have been carried over to the app:
Cheap rates for international calls.
Free text messages to domestic phones.
Transcription of voice mail messages.
Display of a Google Voice number in Caller I.D.
The new app also features a few additional benefits:
Push notifications for instant alerts that you've received a voice mail or text message.
Placement of calls through Direct Access Numbers so they'll be connected as quickly as normal phone calls.
Apple's rejection of the Voice app in July created howls of protest, especially since the software was set to start running on Research In Motion's Blackberry and Google's Android platforms. Critics accused Apple of spiking the app to protect the profits of the iPhone's sole carrier, AT&T.
Apple said it shunned the app because it replaced certain iPhone functions and features.
This fall Apple reversed its position on the app after granting approval of a third-party app that worked with Google voice. "Perhaps feeling the pressure from the FCC and wishing to avoid a legal tussle, Apple recently loosened up many of the iTunes App Store restrictions that had previously frustrated a number of developers," Network World blogger Yoni Heisler wrote at the time.
"Not only are iOS developers now allowed to use cross-platform development tools, but a number of previously rejected/removed/pending review apps are now finding their way back into iTunes, chief among them Google Voice," he added.