Good news ladies, thanks to Google you can now shop using the fashion sense of some of your favorite celebrities, designers and fashion bloggers such as Ashley and Mary Kate Olsen, Salma Hayek, Oscar de la Renta and Jamie Lynn Sigler. The search giant launched a new site Wednesday called Boutiques.com that helps you find clothes to suit your personal tastes.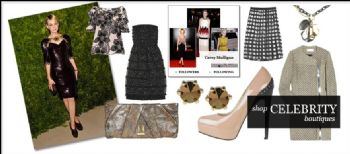 The site combines computer vision and machine learning technology "to visually analyze your taste and match it to items you would like," Google said in a blog post. Based on search technology developed by Like.com — a company Google acquired in April — think of Boutiques as one part visual search engine and one part clothing-centric social network.
Although you can't try the clothes on virtually (hey Google, maybe a Kinect hacker can help with that), the site lets you filter clothes based on your preferred brands, fabric patterns, colors and silhouettes. You can also peruse clothing contained in the hand-crafted collections (called boutiques) of well-known fashionistas — Google calls them "taste-makers" — such as actresses Anna Paquin and Maggie Q, designers Christian Siriano and Isaac Mizrahi, and fashion blogger susiebubble.
As you go through the site, Boutiques creates its own personal boutique for you. If you ever want to buy something online, clicking on a piece of clothing will send you to third-party sites such as BlueFly and Endless.com where you can buy the garment online.
Love/Hate The Boutique Way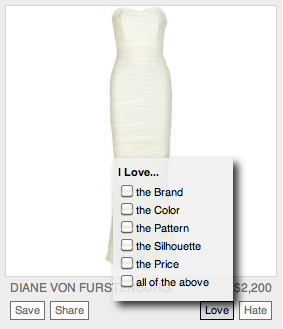 To get started, you create an account so that Boutiques can store your clothing preferences. Once you're signed up, you start creating your personal collection by rating clothing in one of the celebrity boutiques or you can peruse clothes by type such as pants, tops, skirts, shoes and so on.
Its straightforward to teach Boutiques about the clothing you like. As you peruse the site, each item of clothing has "Love" and "Hate" buttons. Clicking on either button brings up a pop-up window where you check off what you liked or didn't like about the item such as the brand, color, pattern, silhouette, price or all of the above.
As you start loving and hating things, Boutiques compiles a profile about the types of clothes you prefer. As you do this, your personal boutique starts filling up with clothing items Boutiques thinks you'll like. You can also Love/Hate things in your own boutique to refine the search engine suggestions even further.
Social Shopping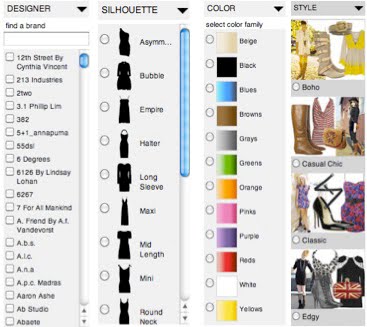 To the left of the Love/Hate buttons underneath each garment is a Save and Share button. Clicking the save button will bookmark the item for you and store it in the favorites section of your personal boutique. The share button lets you send an e-mail to a friend or tweet about the item with a link back to Boutiques.
Boutiques also has a Twitter-style follow feature that places the latest additions to a friend's or celebrity's boutique into a news feed you can check out at your leisure. You can also leave comments on other people's boutiques to let the world know what you think about a particular celebrity's boutique.
Google's Boutiques appears to be an interesting site, and sure to be popular for those of you who already rate people's clothes while you're walking down the street. But I wonder how many people will actually buy clothes from online retailers based on recommendations from Boutiques. While the site might be able to help you find an item you'll like, you never really know if a piece of clothing is right for you until you try it on.
Boutiques is available only in the United States and only for women's fashion at the moment, but Google says it plans to expand the site in the future.
Connect with Ian Paul (@ianpaul) on Twitter.