Checking in to Foursquare from outer space? Awesome. Checking in from a war zone? Impressive, but not a good idea, according to the U.S. Air Force.
A warning posted to the Air Force's internal website tells troops not to use location-based services such as Foursquare, Facebook Places, Loopt and Gowalla from the battlefield, the Associated Press reports. The notice says that "careless use of these services by airmen can have devastating operations security and privacy implications."
The Air Force is worried, of course, that checking in to war could allow enemies to track the position of U.S. forces. In addition to warning the troops directly, the Air Force sent the message to senior commanders to get the word out. The U.S. Army also plans to warn its soldiers about check-ins next week. It's not clear whether the Army or Air Force have formal rules against location-based services.
I can imagine the temptation to check in on the battlefield. It could be a way for soldiers to remind friends that they're risking life and limb in Iraq or Afghanistan. Still, the concern from Air Force officials is understandable.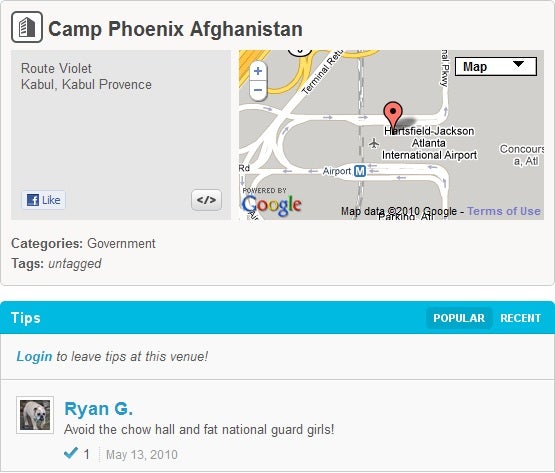 Interestingly enough, Foursquare does have check-in venues at some camps in Iraq and Afghanistan, but don't expect the site to partner with the Army or Air Force on an official war zone badge any time soon.