If you're headed to Walt Disney World or Disneyland this holiday season, you can turn to Gowalla, the location-based check-in service, as your virtual tour guide. Disney Parks and Gowalla announced they are teaming up to offer Disney-themed Gowalla virtual stamps and special trips centered around more than 100 popular Disney theme park locations such as Epcot Center, Pirates of the Caribbean, Cinderella Castle and Space Mountain.
Gowalla will also offer location-based trips to help you explore the highlights of both Disney parks, and there are even a few holiday-themed trips so you don't miss out on any Disney special events. Each trip features maps, information about each featured stop along the route, a check-in stream and photos taken by other Gowalla users.
A Gowalla primer
Gowalla is a location-based service that encourages you to "check-in" and share your location with friends using your smartphone's GPS capability. Each Gowalla user is issued a virtual passport, and you earn a virtual stamp for every place you visit. Gowalla also has a trip feature that acts as a tour guide for various cities around the world. Visitors to Toronto, for example, can go to notable haunts from the Scott Pilgrim vs. The World movie and comic book series. You can take campus tours at Duke and Ohio State universities or a pub crawl through London. Gowalla also features a geo-caching gaming element that lets you pick up and drop virtual goods such as model trains and electric guitars as you check-in at different locations.
Disney parks stamps and trips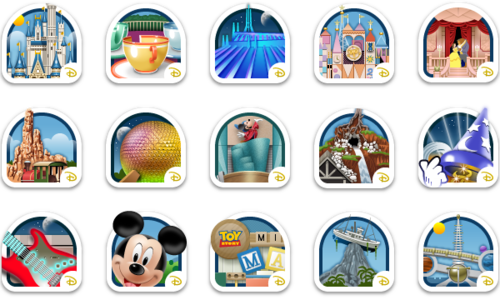 At launch, Gowalla will offer users more than 100 virtual stamps, but the company plans on releasing another 100 stamps by the end of the year. Gowalla said each stamp in its Disney collection was " painstakingly rendered in pixel form by Gowalla with the guidance of the Disney creative team – bringing you an experience that is truly 100 percent Gowalla and 100 percent Disney." Gowalla will also retroactively award the new stamps to all Gowalla users who have previously checked in to locations at Disney's U.S. theme parks.
You can visit Disney Parks on Gowalla here.
Location-based services heating up
In August, Facebook launched a check-in feature called Places, and followed that up in November with a Deals feature that offers users discounts for using Facebook Places. After Facebook's entry into location-based services, it appeared to be curtains for small location-based start-ups such as Foursquare and Gowalla. But the partnership with Disney shows that Gowalla can still attract major brands to its service. Other Gowalla partnerships include USA Today, The Washington Post and National Geographic. Foursquare also has prominent check-in partners including Bravo TV, The Huffington Post and the Independent Film Channel.
Will you check in?
Despite the attention location-based services are getting these days, not many people appear to be willing to check-in and share their location. A recent study by the Pew Internet and American Life Project found that only 4 percent of online American adults use location-based services.
Gowalla says Disney theme parks are some of the company's most active check-in locations. But if only 4 percent of Internet users in the United States are checking-in anyway, we'll have to see just how effective corporate partnerships are in helping to popularize check-in services such as Facebook Places, Foursquare, Gowalla and MyTown.
Connect with Ian Paul (@ianpaul) on Twitter.