With the many choices and factors to consider, choosing a laptop of any kind can be a considerable challenge. Choosing one for use with Linux, however, brings its own special set of considerations, since it's not yet always a plug-and-play world for the open source operating system.
Linux is typically not fussy about hardware–that, indeed, is one of its most endearing advantages. Some hardware, however, still doesn't work well with Linux, due primarily to a historical lack of the right drivers.
Still, there are more laptop choices today than ever before for the Linux user. Here are some guidelines for choosing the one that's right for you.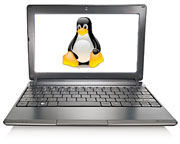 Key Features
Shopping for a Linux laptop involves many of the same key considerations as shopping for a Windows laptop, and is easier in some ways due to Linux's modest hardware requirements. There are also unique considerations to factor into any Linux laptop purchase, owing largely to potential problems with driver coverage. If you're planning on dual-booting your laptop with both Linux and Windows, of course, you'll need to keep both sets of requirements in mind.
Operating System
One of the first things you'll need to think about is which distribution of Linux you want to use, and whether you want to buy it preinstalled on a laptop or to install it yourself on top of a (presumably) Windows-based laptop. You'll also need to decide if you want to keep Windows on your machine as well, known as a "dual boot" scenario.
On the first of those questions, choosing a distribution–or "distro"–is something that will depend on your interests, level of expertise, and so forth. Check out our guides to choosing a distro and to the top 10 distros for more on that. In general, the best distros for laptops include Ubuntu, openSUSE, Linux Mint, and Fedora, but there are also smaller-footprint ones such as Puppy Linux and Damn Small Linux (DSL) for low-resources machines. Once you pick a distro, check its Web site for hardware recommendations, even though most will be far exceeded by today's laptop offerings.
As far as getting the distro on your computer, many vendors out there sell laptops with Linux (usually Ubuntu) preinstalled, so that's certainly a safe option. The added advantage of taking that route is that such preinstalled offerings typically come with key Linux drivers (more on that below) installed as well, making it easier to start up and go.
Of course, installing Linux yourself is by no means difficult, and it can be handy to have a dual-boot setup in case you ever need Windows for something specific. Doing it this way also gives you a wider range of hardware to choose from.
Processor
Among the most commonly found CPUs today are the Intel Atom N450; the Intel T4300, Core 2 Duo, Core i3, Core i5 and quad-core Core i7; and the AMD Athlon 64 Mobile and Turion 64 X2.
Basically, the more cores in your processor, the more calculations it can handle at once, making for better response times when you're running multiple applications. Dual core is good for most purposes today. Processor speeds, meanwhile, typically range from 1.8GHz to 3GHz or more.
Of course, Linux can play well with just about any processor–even the lower-end Atom–particularly given that there are distributions designed just for low-resource contexts. For a nice, basic laptop setup, though, the Intel Core 2 Duo and the (slightly slower) dual-core AMD Turion 64 X2 could both be good choices for either a dual-boot or Linux-only scenario. If you're planning on performing tasks such as encoding video or running engineering applications, of course, the higher-end Core i3, i5 or even i7 might make more sense.
System Memory
RAM is particularly important if you plan to use memory-intensive apps like virtualization, photo editing or video editing, or if you plan to dual-boot. Most laptops offer between 2GB and 4GB of RAM; many are also upgradable with more than that. If you go for a 64-bit Linux distro–or if you dual-boot–it's a good idea to go for 4GB of RAM for maximum flexibility. On the other hand, 32-bit distros alone don't typically need more than 3GB.
Wireless
Wireless support is one of the areas that has historically given Linux the most trouble, but thankfully that's improving every day. This fall, in fact, wireless chip maker Broadcom announced a fully open wireless driver that's compatible with the operating system. Expected to appear in the Linux kernel late this year or in early 2011, that new 802.11 driver will allow Linux distros to fully support many common Broadcom wireless chips.
The new Ubuntu 10.10, Maverick Meerkat, reportedly includes that new driver already, and upcoming distro releases will undoubtedly do the same. Meanwhile, Atheros and Intel are the two wireless chip brands best known for their Linux compatibility. The Intel Pro series 3945 card is one compatible one; others can be found in this database.
Graphics
Fully supported low-end video cards for Linux include the Intel GMA 4500MHD, 945GM, 950 GMA, and X3100 GMA as well as Nvidia's Quadro NVS 160M. On the higher end–targeting video editing and 3D games–there's the Nvidia Quadro FX 880M, FX 2800M, NVS 3100M, GeForce 9300M GS and GeForce 9300M, as well as the Intel GMA X4500 HD, ATI FirePro M7740, ATI Radeon HD 3650 and ATI Mobility Radeon HD4650, to name a few.
For high-end purposes, it's important to make sure dedicated 3D acceleration is supported under Linux so as to avoid taking up valuable CPU resources drawing 3D images. Nvidia and ATI are the primary providers of dedicated GPUs, but it's definitely worth visiting the driver pages for Nvidia, ATI/AMD, and Intel to make sure you get the right thing.
Keep in mind, too, that if you're into gaming, there's still limited support for Linux among most game makers. You may want to dual-boot and to get extra RAM along with the best graphics support you can afford. You'll also probably have to get a bigger laptop, incidentally, since heat-prone dedicated GPUs tend to require more space for cooling.
Sound
Most on-board sound cards should work just fine with Linux, enabling users to play MP3, WAV, and OGG files as well as ripping audio CDs and more. If you're eyeing something really high-end in this area, however, you should make sure all its features are supported.
Optical Disk
Linux does support DVDs and other optical formats, but if you're hoping to play Blu-ray movies, you'll need to get a Blu-ray optical drive that can read and write DVDs. Because Blu-ray involves DRM, you'll need to have the latest versions of Mplayer and DumpHD to perform the necessary decryption.
Screen Size, Hard Drive, Battery, and Keyboards
Considerations on these should be much the same as for non-Linux laptops. Consider your needs and choose accordingly.
Next page: Specs explained, and shopping tips
Linux Laptop Specs Explained
Before you begin shopping for a Linux laptop, think carefully about how you plan to use it. This will guide not only your choice of a distro and whether you want to dual-boot, but also which features are most important to you. If there are any must-have apps you rely on, you should double-check up front whether or not they support Linux, or if there are equivalent open source alternatives; if not, you'll be dual-booting for sure.
For users who plan to stick to Linux and non-graphically oriented applications, there's no real need for high-end processing power or graphics support. Those who plan to dual-boot, on the other hand, are going to want just as much power as a traditional Windows user would.
Here's a rough breakdown of some of the configuration options you'll need to consider.
Operating System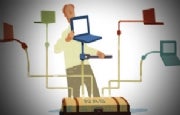 If you want to buy Linux preinstalled, you'll need to go to a vendor that offers such machines. If you want to dual-boot with Windows, you can either buy from a Linux laptop vendor and request that option, or you can buy a traditional Windows laptop and add the Linux distribution of your choice yourself. Either way, which operating system you plan to use will be a key driving factor in where you buy your laptop and what specs you choose.
Wireless
Since this has long been an area of trouble for Linux users, it will be worth your while to make sure ahead of time that you get Linux-compatible wireless hardware. Until Broadcom's new brcm80211 driver is widely incorporated, this generally means making sure you have compatible wireless hardware from Intel or Atheros. Broadcom should be OK too, if you're running Maverick Meerkat.
Graphics
This is another area of potential trouble for Linux users, so you'll want to make sure your laptop's video card and 3D acceleration are fully compatible. This is one area where buying from a Linux-specific laptop vendor can make your life easier–they'll worry about this for you and make sure your graphics work.
Processor
As the brain of your laptop, the CPU will determine its responsiveness and performance in completing the tasks you give it. If you're planning to go Linux-only, this is a less critical consideration, but if you're aiming to dual-boot or use high-end applications, you'll want to get something more powerful.
System Memory
Since most laptops today come with at least 2GB of RAM–and since that's good for most purposes, especially if you're going the Linux-only route–this factor shouldn't be too big an issue. Of course, if you're planning to dual-boot or to go with a 64-bit distro, you'll want to get more.
Optical Drive
This shouldn't be a big factor to think about unless you're planning to watch Blu-ray movies, in which case you'll need a Blu-ray optical drive that can read and write DVDs. You'll also have to get some extra software for decryption.
Weight, Screen, Hard Drive, Battery, Keyboard, Software
These are all factors you'll want to consider, of course, but they typically don't involve Linux-specific considerations. Keep in mind, too, that in the open source world, just about any software you want can be easily added later for free.
Linux Laptop Shopping Tips
Ready to start shopping? It's a good idea to begin by checking out some Linux-specific vendors first. They typically offer the easiest route for you, since they deal with compatibility issues ahead of time, and you'll get an idea of what their offerings and prices are like along the way.
Among the best-known Linux laptop vendors out there are Dell, LinuxCertified, ZaReason, EmperorLinux, and System76.
Even more options around the globe are listed at TuxMobil and LXer.
It's also a very good idea to check out some of the sites out there that collect Linux-focused user reviews and status reports on particular laptops and other hardware, often vendor by vendor. Examples include:
If you're able to get your hands on any of the laptops you're looking at before you buy one, it's a great idea to bring along a LiveCD of the Linux distro you're considering so as to try it out. That way, you can have more confidence that it will work the way you want.
In any case, the following specifications will probably meet the basic needs of most users.
Ubuntu 10.10–With Windows 7 for a Dual-Boot
"Maverick Meerkat" is the latest release of Ubuntu, and it's the most user-friendly version to date. It should also include all the key drivers you might need. Canonical, Ubuntu's maker, recommends the 32-bit version of the operating system for most users. If you choose to dual-boot–not a bad idea if you're new to Linux, are a gamer or rely on key Windows-only apps–you'll most likely get Windows 7 too. Most Linux-focused vendors offer dual-boot installations as well.
A 2.4GHz Intel Core 2 Duo Processor
This is a good, solid, dual-core 64-bit CPU that will handle multitasking nicely along with whatever the average user might throw at it. Though you may not need a 64-bit processor for Linux, you'll be glad to have it if you're dual-booting with Windows.
4GB of RAM
Again, you may not need this much RAM if you're running a 32-bit Linux, but if you dual-boot it will stand you in very good stead for most purposes on the Windows side, as well as for gaming and higher-end applications.
Wireless
Look for wireless hardware from Intel or Atheros, and make sure ahead of time that it's supported with the right Linux driver.
Dedicated Video Card
Unless you're very sure that you won't ever be using your laptop for anything involving more than just the most minimal graphics, your best bet is to buy a laptop with a higher-end, dedicated video graphics card. If you'll be dual-booting, that's even more true. The majority of Nvidia and ATI/AMD cards fall into this category, but make sure you confirm before you buy.
Follow Katherine Noyes on Twitter: @Noyesk.