I don't know about you, but I've been feeling an awful lot of "meh" this week. First came the launch of Facebook's non-e-mail e-mail service — color me indifferent — and then the day we'll "never forget," when Apple started selling Beatles songs on iTunes. (I've already gotten "11/16/10" tattooed on my thigh to commemorate the occasion.)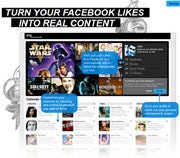 Now Myspace is giving us one more reason to shrug our shoulders in apathy. Myspace (or is it My_____?) announced a new feature today that'll let you "mash up" your Facebook profile on Myspace.com. The feature, creatively called Myspace Mashup with Facebook, basically gives you a way to pull your likes and interests from Facebook into Myspace. The benefit? Myspace can then use that data to offer you personalized "recommendations" for entertainment content.
I'm guessing approximately four people are excited by this development — and that's including Rupert Murdoch and the rest of the News Corp crew.
Myspace-Facebook Mashup: Too Little, Too Late
Here's the problem: Very few folks are actually using Myspace these days, relatively speaking. The site lost half of its total traffic from mid-2009 to mid-2010 and, despite attempts at rebranding itself and surgically removing parts of its name, the ol' mare hasn't been able to make much progress toward a recovery. Just a couple of weeks ago, Myspace's parent company described the site as a "problem" and said its current financial losses were "not acceptable or sustainable." Ouch.
So now you can take your information from Facebook and use it to get Myspace-provided "entertainment recommendations." What might these recommendations be, you wonder? In my trial, Myspace initially suggested I become friends with the musician Bruno Mars, attend a tour by a French "electo-grunge" band called Liga Quintana, and play an online game called Dog Wars.
Sweet salvation — Myspace is saved.
Seriously, though, come on: Does anyone really think this is going to convince hoards of people to head back to the dusty, cobwebbed halls of the social network they abandoned years ago?
Myspace's main challenge, after all, is coming up with some sort of unique value that'll get users to click over and stick around. The site's been trying for some time to reinvent itself as an "entertainment portal" — a place where you go to watch videos, listen to music, and share your tastes with other fans — but there are already plenty of other services that do that same thing. And people actually use those services. Adding in an option to pull over your Facebook preferences may be a pleasant perk for Myspace's remaining loyal users, but it doesn't do much to lure new folks in.
Between this and the recent desperation-soaked attempts at appearing "hip" — via that silly logo change and the headache-inducing site redesign — one has to imagine that Myspace is running out of hands to play. Unless the service has some secret power-move it's waiting to unleash on the world (paging Justin Bieber…), it may not be long before the once-giant network joins Geocities in the great virtual beyond.
JR Raphael is a PCWorld contributing editor and the co-founder of geek-humor site eSarcasm. You can find him on Facebook and Twitter (and on Myspace, provided that you have a time portal to 2004).