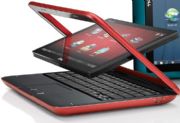 Dell is now taking pre-orders for the Dell Inspiron Duo, a 10-inch combination tablet-notebook computer unveiled earlier this year.
In a completely surprise move (read: we totally expected this) at the grand opening of a new Microsoft store in Bellvue, Wash., on Thursday, Dell began lining up buyers for the tab-books, which are expected to start shipping the first week of December.
The catch is that the units are only available for pre-order in a Microsoft store–you can't yet pre-order online (though Ben Rudolph of the Windows Blog says the Duo will be available online "very soon").
The Dell Inspiron Duo starts at $549 (yes, that's $50 more than the iPad's starting model), and features a swiveling 10.1-inch touch screen, which allows it to be used as both a notebook and a tablet.
The Duo doesn't have the "instant on" capabilities of a conventional tablet–it takes more than half a minute to chug into action from a cold boot–but it does have more muscle, with a 1.5 GHz dual-core Intel 550N Atom processor, 2GB of RAM, a 250GB hard drive, and a Broadcom HD graphics accelerator.
The tablet-notebook has a rubbery chassis and comes in black, blue, and red. It weighs about 3.2lbs, which is pretty average for an ultraportable, though (needless to say) quite heavy for a tablet (Apple's iPad weighs less than half of that, at 1.5lbs). In notebook mode, the Duo runs Windows 7 Home Premium; in tablet mode, it runs Dell's "Stage" mobile user interface.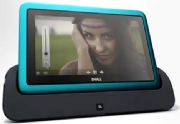 For an additional $100, users can also purchase a speaker dock, which features an Ethernet jack, an multi-card reader, a couple of USB 2.0 ports, a headphone jack, and also doubles as a charging station. The unit itself features 2 USB 2.0 ports and a headphone jack. The speakers are reportedly very good–Rudolph writes in his blog post that the sound is "just as impressive as the Bose speakers [he has] connected to [his] desktop PC."
The Inspiron Duo is a pretty unique idea, looking to hook people who want the benefits of a tablet (touchscreen, portable, fun to use) without any of the drawbacks (lack of keyboard, no ports). Unfortunately, it may not satisfy the needs of either tablet- or notebook-users. For example, its tentatively reported battery life (according to a hands-on review by Tom's Hardware) is lacking–it sports a 3-cell battery that lasts around three hours, which is sub-standard for both tablets and netbooks.
The Duo's Atom processor is likely to be an issue for users looking for notebook- (not netbook) like performance, and Rudolph notes that some data-heavy applications (such as Microsoft Outlook) take a while to load.
Are Windows 7/Dell swivel tablet-notebooks the future? More importantly, will you be dropping $549+ in the next couple of weeks to get your hands on one?