Rovio Mobile, developers of the addictive Angry Birds game, has run into the oft-denied Android platform fragmentation issue. The company said in a blog post that it is now working on a separate, lighter version of its Android game version, after users reported performance problems with several older Android devices.
Angry Birds for Android was launched on the platform on October 15, and was a phenomenal success, with over two million downloads in a just a few days. A month later, the company says it has to develop a separate, more lightweight version of its Android app. At the root of the problem: fragmentation of the Android platform; the result: almost 30 Android phone models are officially unsupported by Angry Birds right now.
"We worked hard to bring Angry Birds to even more Android devices," the Angry Birds team wrote. "Despite our efforts, we were unsuccessful in delivering optimal performance. We are aware that a number of our fans have had trouble running the game on their devices. For example, some older and lower performance Android devices are experiencing severe performance issues."
But it's not only older Android devices, like the HTC myTouch 3G or T-Mobile G1, that are officially unsupported by Angry Birds. The list includes newer phones like the Motorola BackFlip, Sony Ericsson Xperia X10 mini, or the brand-new T-Mobile G2 Touch. Also, any devices running a version of Android below 1.6 are not supported (8 percent of Android phones out there).
Fragmentation: Not Just About Software Versions
Android hardware manufacturers have been traditionally slow to keep up with Google's fast pace of software updates. Dozens of Android smartphone models now on the market are sold running an older version of the mobile OS. Slowly, many Android phones are being updated with the latest software release, and Google's own figures show that just 36 percent of Android phones run on the latest release (version 2.2), while 40 percent are on 2.1, and 15 percent on 1.6.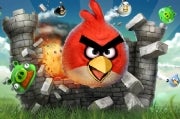 However, it's not only software differences that make developing for Android harder for software developers. Various screen resolutions, different processor speeds, different amounts of RAM, and customized Android interfaces all play a big part in the Android fragmentation. These differences are also probably at the core of Angry Birds' performance problems on many Android phones.
At the other end of the spectrum is Apple's iOS and its integrated ecosystem, where the Angry Birds game originated, and the platform that propelled the game into stardom. Apple CEO Steve Jobs was not hesitant to rip into Google's fragmentation issues with Android, characterizing it as "a mess for both users and developers."
Google's plan to end Android fragmentation includes detaching many standard apps (like Mail, Maps, Photos) from the main OS, and update them independently via the Android Market. However, resolving Android fragmentation will see more hurdles ahead, as Google is preparing to launch Android 3.0 in a few weeks, adding yet another version of its OS on the market.
Follow Daniel Ionescu and Today@PCWorld on Twitter.