If you've been on the Internet for a while, you've probably heard about debt collectors who stalk and harass debtors on Facebook and other social networks. Now, a woman in St. Petersburg is fighting back with a lawsuit.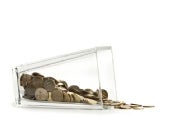 Melanie Beacham and her attorney Billy Howard want the collection agency, MarkOne, banned from using Facebook for skip tracing, WTSP reports. They claim that the agency contacted Beacham's sister and other relatives through the network for delinquent car payments, even though they weren't listed as contacts.
The story of debt collectors using social networks to stalk debtors has been kicking around for more than a year, but it's rare to hear about people fighting back against the collection agencies in court. This case is also novel because it suggests the agency was trying to embarrass Beacham by contacting her relatives through Facebook.

Some state laws, along with the Fair Debt Collection Practices Act, place restrictions on how debt collectors can contact debtors, but Facebook stalking and contact is a gray area, particularly with the federal law, because it doesn't explicitly deal with social media.
There is at least some precedent: In Minnesota, a collection agency learned about a woman through MySpace and used this information to confront her. Reportedly, the agency told the woman she had a "beautiful daughter" and insinuated that it would be awful if something happened to her kids while the sheriff was taking her away. The woman sued under the FDCPA and won. FindLaw has a rundown of other ongoing litigation.
Of course, the boilerplate disclaimer applies, regardless of whether you're in debt: Don't make any information public on Facebook or other social networking sites that you wouldn't want a stranger to know about, and don't befriend people you don't know if it means giving them access to private information, no matter how attractive their profile pictures may be.