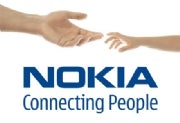 What do you do with your time when it's only light out for 3-4 hours a day in a long, cold Finnish winter? If you're a group of Nokia employees, you build the world's first ice touchscreen, of course.
New Scientist's report of the experiment (with corresponding video) shows some awesome potential for interactive computing interfaces. The 2-by-1.5 meter surface built from 50 centimeter square slabs was smoothed out with a heat gun, and near-infrared lights and cameras were mounted behind it. Reflections of objects touching the outward surface of the ice are sent to a PC for determination of size and movement. A connected projector used the data to project imagery beneath the object, thus creating the illusion of flames under a user's hand.
The technology is called rear-diffused illumination (RDI). You might remember it from Microsoft's Surface, the table touchscreen they released in 2008. Building a screen of ice will limit the touchscreen's accuracy, but as a proof of concept display this is one of the coolest things ever. No sensors were actually placed in the ice itself to keep costs down, and as the movie shows it seems to be fairly responsive and accurate for cameras looking for objects and movement through a thick piece of ice.
This could obviously be used in interactive displays where it's cold enough to keep ice in a solid state for advertising purposes–say at an ice hotel or a ski resort. Projections onto glass is an interesting alternative (a la Minority Report), and you can see where this type of technology is going in research development such as Microsoft's Lightspace.
Check out the New Scientist video if you haven't already–it's really quite cool.
How long until you think this tech will be mainstream? Put your input in the comments!
Like this? You might also enjoy…
Follow GeekTech on Twitter or Facebook, or subscribe to our RSS feed.