At a Glance
Expert's Rating
Pros
Big hard drive plus Blu-ray playback
Responsive keyboard and excellent touchpad
Cons
Disappointing display
Gaming performance seems lackluster
Our Verdict
Samsung delivers a modern-looking desktop replacement with some solid components, but the overall implementation underwhelms.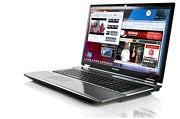 The Samsung RF710 desktop replacement laptop is a capable notebook with a strong mix of components, but ultimately it seems to underperform relative to other systems in its class. On the other hand, it's a relatively attractive laptop, all muted dark gray and silver, and it's relatively light at 7.5 pounds with the power brick.
The keyboard layout is fairly standard, with the only negative being the smaller size of the function-key row. Having smaller function keys isn't all that bad, but the compactness extends to the Home/PgDn cluster, which makes using those keys a little awkward. The overall feel of the keyboard while typing is excellent, but I found my fingers occasionally slipping off keys when touch typing. I wish the Chiclet-style keyboards had just a small indentation in the center, as most desktop keyboards do.
The touchpad, in contrast, proved to be among the better ones I've used. Samsung got the sensitivity correct out of the box–not too twitchy, not too sluggish. It also avoids the problem that some touchpads have of reacting to fingers that hover just a little above the pad surface.
The RF710 ships with an Nvidia GeForce GT 330M GPU. The 330M won't win gaming performance awards, but it is capable enough. In Far Cry 2 tests the RF710 couldn't hit 30 frames per second in full resolution, and in Just Cause 2 it fell short of 20 fps. If you're playing a current-generation PC game, you might want to dial down the graphics settings and resolution to get adequate frame rates during gameplay.
This particular Samsung laptop ships with 4GB of DDR3 memory and an Intel Core i7 720QM quad-core CPU driving Windows Home Premium 64-bit. Its performance in Windows, however, seems to be lacking relative to laptops with similar processors. The overall WorldBench 6 score of 103 is equivalent to that of similarly equipped systems, but game performance seems a bit lower, probably due to the GPU more than to the CPU. During actual use the RF710 seemed responsive, and it also avoided the high heat output I've encountered when using other 720QM-based systems (that's certainly a positive). Battery life is about average for a big and powerful laptop, at just shy of 2.5 hours.
The RF710 pumped out audio volume substantially louder than that of similar laptops. Samsung includes SRS TruSurround, which adds a little spaciousness to the overall sound at the expense of some audio accuracy. It's a good feature to enable when watching movies–but if you like your music more accurately rendered, you might wish to turn SRS audio off. On the other hand, when SRS is disabled, maximum volume levels seem to decrease, and the speakers take on a thin sound that lacks punch.
In this era of 1080p displays, it's a little odd to see a laptop priced at $1049 (as of November 19, 2010) shipping with a 1600-by-900-pixel display. The color rendition and saturation seemed fine in normal desktop use, but just a touch muted when the system played Blu-ray video. Overall image quality was mostly good, except for the occasional bit of motion smearing in fast action sequences. I looked at key scenes in the Band of Brothers and Serenity Blu-ray sets, and the overall effect appeared a touch soft. Changing viewing angles resulted in sharp falloffs in brightness, and obvious color shifting.
The RF710 comes with a robust set of ports, including four USB ports–two of which are USB 3.0. Both USB 3.0 ports are mounted on the right, with one on the side and the other on the rear right corner. Two USB 2.0 ports, plus VGA, HDMI, ethernet, and audio connectors, are built into the left side of the chassis. A four-in-one flash memory reader sits in the front. Also included are a Webcam and a built-in microphone, which are pretty much required these days.
A Samsung 640GB hard drive handles the storage chores. Samsung divides the drive into a relatively small boot partition (150GB) and a larger data partition (354GB). However, the company didn't do the heavy lifting of moving all the user-data storage–documents, pictures, and the like–to the data drive, so you'll want to manually configure Windows to move those data folders to the secondary partition in order to take full advantage of the substantial capacity. You'll find a Blu-ray reader/DVD rewriter in the laptop, too; the bundled Cyberlink PowerDVD software takes care of Blu-ray playback.
As for connectivity, you can use either the Broadcom 802.11n Wi-Fi chip or the Marvell gigabit ethernet controller. Samsung also includes Bluetooth, but not wireless broadband 3G/4G.
The electronic manual is worth mentioning briefly. While fairly generic, it's very well organized and highly usable–I'd like to see it as a model for built-in manuals on all systems.
Overall, the Samsung RF710 presents an understated, nice-looking package. It has a good keyboard, plenty of storage, and a Blu-ray drive. Gaming results are lackluster, but performance in desktop apps is fine, despite the fact that the current generation of Intel quad-core mobile CPUs has never impressed. It's unfortunate, however, that a 1080p display isn't part of the mix in a laptop costing over $1000.