It's no secret that Ubuntu 10.10, or Maverick Meerkat, is one of the most user-friendly Linux distributions of all time for business and home users.
What many people don't realize, however, is that there are several other Linux distributions out there that are also based on Ubuntu and offer many of the same advantages. Some are focused on a specific niche; others are simply variations on the same general theme.
If you're already a fan of Ubuntu or simply want to experience what the excitement is all about, consider the following alternatives for what just may be an even more perfect match with your business's needs.
For Linux Beginners: Linux Mint and Pinguy OS
With version 10, or "Julia," hot off the presses, Linux Mint is the third most popular Linux distribution out there, behind only Ubuntu itself and Fedora. Many people find Mint even easier to use than Ubuntu, at least in part because it's designed to provide a more complete out-of-the-box experience by including browser plugins, media codecs, support for DVD playback, Java and other components.
Though less well-known, Pinguy is also another very nice Ubuntu-based distribution for Linux beginners. It features numerous user-friendly enhancements, out-of-the-box support for multimedia codecs and browser plugins, a heavily tweaked GNOME user interface and a careful selection of popular desktop applications for many common computing tasks.
Similar to Windows: Zorin OS
Zorin OS is a Linux distribution designed especially for newcomers who have come to Linux from Windows. Based on the GNOME desktop, it has a Windows-like graphical user interface and many programs similar to those found in Windows. Zorin OS also comes with an application that lets users run many Windows programs.
Lightweight Versions: Lubuntu, Xubuntu and CrunchBang
Lubuntu is a fast, lightweight and energy-saving variant of Ubuntu that uses the XDE (Lightweight X11 Desktop Environment) desktop. It is intended to have low-resource system requirements and is designed primarily for netbooks, mobile devices and older PCs.
Also optimized for lower-end machines, Xubuntu uses the lightweight Xfce desktop environment instead. It also includes only GTK+ applications where possible. CrunchBang Linux, meanwhile, features the lightweight Openbox window manager along with GTK+ applications.
For Cloud-Based Netbooks: Jolicloud
Focused on cloud-based netbooks, Jolicloud aspires toward extreme user-friendliness so that any computer user can install it with just one click. Besides the standard .ISO image, the distribution is also provided as a Windows executable file that can resize an existing Windows partition and install Jolicloud as an alternative operating system. Jolicloud is heavily oriented towards Web applications and services.
A Multimedia Focus: Ubuntu Studio and Mythbuntu
Ubuntu Studio is a variant of Ubuntu aimed at audio, video and graphics professionals. Accordingly, it includes a collection of open source applications for multimedia creation.
Mythbuntu, on the other hand, uses the Xfce desktop and focuses on setting up a standalone MythTV-based PVR system.
For Education: Edubuntu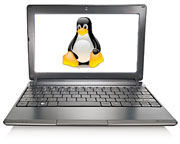 Edubuntu is designed to be suitable for classroom use, enabling an educator with limited technical knowledge and skill to set up and administer a computer lab or online learning environment in an hour or less without having to become a Linux expert.
A Different Desktop: Kubuntu and Netrunner
Whereas Ubuntu has always shipped with the GNOME desktop interface by default, Kubuntu and Netrunner are both variations that use the KDE desktop instead. The differences are mainly cosmetic, but you may find you prefer KDE, which uses more blues and grays than GNOME's purples.
In short, Ubuntu is a great Linux distribution for both business and home users, but part of the beauty of Linux is the wealth of choices available and the ease of trying them out. If your business has specific needs–or if there's anything you'd like to change in Ubuntu–one of these variants might be just the ticket.
Follow Katherine Noyes on Twitter: @Noyesk.