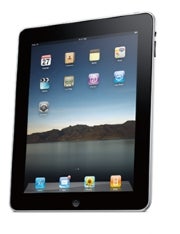 To buy an iPad or not to buy an iPad? That's the big question this holiday season after a slew of rumors and speculation surfaced saying that a next-generation iPad is in the works for 2011. The new iPad is rumored to be lighter, thinner and faster, and have a front-facing camera for FaceTime video chat.
So what's an informed tech shopper to do during the mad rush at Apple Stores, Best Buys, Wal-Marts and everywhere else the iPad is sold this holiday season? Do you take your chances and buy the current iPad as a gift to yourself or someone else on your shopping list? Or should you hold off for the promise of newer and better iPad that could be announced as early as January? Here are the pros and cons that are the top of my mind as we head into the end of year shopping rush.
Con: Still Vaporware
Despite all the prognostication by market analysts, and the rumors out of Apple's supply chain, there are no guarantees we'll see a second-generation iPad in early 2011. Of course, other iOS devices such as the iPhone and iPod Touch get refreshed on a yearly cycle so it makes sense the iPad would also follow this pattern.
Apple appears to have big plans for the iPad's future, and with competitors such as the Samsung Galaxy Tab, the BlackBerry Playbook and an anticipated WebOS tablet in the pipeline, Apple needs to keep improving the iPad's feature set. So it's highly likely we'll see an iPad in early 2011, but it's still pure speculation at the moment.
Pro: Video Chat
The next iPad will supposedly come with a front-facing camera for FaceTime video chat, whcih the current version of the iPad lacks. If you're a big FaceTime user then you might want to wait for the next iPad; however, don't count on using Skype video chat with iPad 2.0. Skype video calling still isn't available on the FaceTime-enabled iPhone 4 and iPod Touch, so there are no guarantees that Skype video will come to the next iPad in the near future, either.
Pro: Lighter and Thinner
The next iPad is rumored to be lighter and thinner than the current version, which weighs in around 1.5 pounds and has a 0.5-inch profile. Besides making the iPad an even better travel companion, a lighter iPad means e-book fans can read for longer periods on the tablet device.
One of the biggest complaints about the iPad as an e-reader is that it's just too heavy to be practical, especially compared to Amazon's Kindle weighing in around 8.5 ounces. It's not clear how much lighter the rumored iPad would be, but any weight loss would be a welcome change for e-reading fans.
Con: iOS 4.2
If you're hoping for or unknown or cool software features to come with the next iPad, you could be out of luck. Apple's iOS 4.2 update is expected to launch soon, and the software refresh will finally bring iOS 4 features to the iPad such as multitasking, folders, a unified e-mail inbox, and Game Center. The new iOS update will also support AirPrint, allowing you to print to a compatible network printer and AirPlay, which lets you stream video, music and photos from the iPad to the new Apple TV.
All those new goodies means that if the iPad 2.0 launches in early 2011, it's unlikely to have many new software features since it would debut so close to the release of iOS 4.2. Sure, there will have to be FaceTime software, according to the rumors, but I'd bet we won't see many other new software features until the annual iOS overhaul during the summer.
It's a tough call for iPad shoppers in the know. Do you hold off on your tablet lust in the hopes of a better iPad early next year or throw caution to the wind and just get it? Then again, maybe you can have the best of both worlds. I bet the original iPad would make a great hand-me down for someone else in your household once iPad 2.0 hits store shelves.
Connect with Ian Paul (@ianpaul) and Today@PCWorld on Twitter for the latest tech news and analysis.