Almost as easy to use as its name implies, the Kodak EasyShare software (free) provides consumer-level tools for organizing, sorting, editing, and using your photos in a variety of ways. Though it is designed specifically to work with Kodak cameras and printers (and is supplied with most Kodak hardware), anyone can download it at no cost and use it with any camera or printer.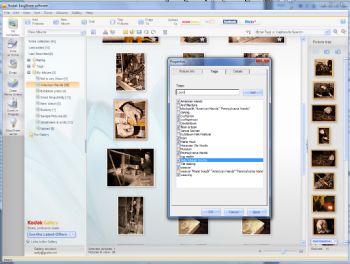 Bringing your pictures into EasyShare isn't as automatic as it is with similar programs, such as fellow freebie Windows Live Photo Gallery–unless you keep all your photos in a single folder. The problem is that EasyShare reorganizes your photos into albums, rather than simply using whatever folder organization you've already created. Rating and tagging photos is very simple, and the tags and star ratings you've created for your photos in other programs are automatically imported; however, unlike Windows Live Photo Gallery, it doesn't have face recognition tagging.
Kodak EasyShare's photo editing is streamlined, covering the most common commands wanted by consumers, such as Red Eye, auto and manual exposure correction, Facial Retouch, Fun Effects (such as cartoon and fisheye), Add Text, and so forth. These tools aren't very deep, but they make quick work of basic editing.
Output options are divided into five self-explanatory tabs: Print at Home, Email, Order Prints Online (from Kodak Gallery), Creative Projects, and EasyShare center. However, most of the Creative Projects templates are either 15-day trials of ArcSoft programs or an opportunity to purchase photo novelties (such as coffee mugs) from Kodak Gallery. The EasyShare Center is a portal for getting help, finding tips and project how-tos, learning more about photo editing, and so forth. Buttons at the top of Home screen offer upload to YouTube, Facebook, and flickr, as well as Kodak Gallery.
Kodak EasyShare is one of the better free photo editors and as good as some paid editors. It is a solid choice for consumers who love to take, use, and share their photographs…but would rather not spend any more time on their computers than absolutely necessary for organizing, editing, uploading, or printing.