When most people think of a tablet, they think of the pater familias of the current generation, the 9.6-by-7.5-by-0.5-inch Apple iPad. But today, with dimensions ranging from the height and width of a Christmas card to the height and width of a clipboard, tablets are as becoming diverse a product category as we've seen in a long time. In fact, the first order of business may be to try to establish some ground rules for what people mean when they refer to something as a tablet.
What Defines a Tablet?
Is a device with a 3.2-inch touchscreen, like the Archos 32 Internet Tablet (below), really a tablet? In its dimensions it more closely resembles a mobile phone or an iPod Touch than an iPad. But when you think about it, an iPod Touch can does much of what an iPad does–only (as is true of its iPhone cousin) on a smaller screen. Likewise, the 5-inch Dell Streak is as comfortable to hold as a mini-tablet, calling to mind the advantage that the 5-inch Sony Reader Pocket Edition e-book reader has over its larger brethren.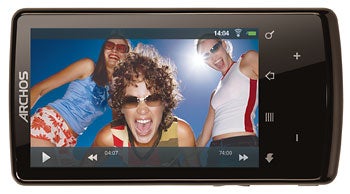 Think of the differences in screen size as being akin to the differences between reading a paperback book, a standard-size hardcover book, and a coffee-table book: What a publisher can fit onto a page and how it presents the layout vary depending on the product's size–and your arms will tire from holding these devices at dramatically different rates.
Today there are no industry standards to delineate the category, but we consider the following to be minimum requirements:
• Screen size of 5 inches or greater
• Slate-style design
• Internal components that include a CPU, RAM, and either on-board or MicroSD-based user storage
• Wi-Fi connectivity
• Touchscreen display
Now let's take a look at some members of the new generation of true tablets.
Archos 10.1 Internet Tablet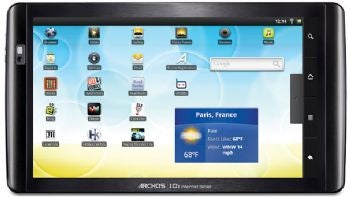 One of the first companies to produce an Android tablet in 2009, Archos will try to go head-to-head with the iPad and other larger rivals with this 10.1-inch Android 2.2 tablet.
HP Slate 500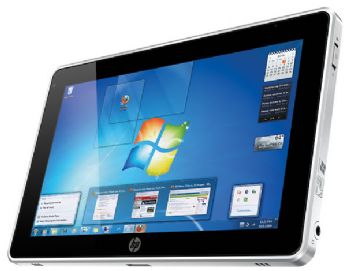 Running a full-blown version of Windows 7 and powered by an Intel Atom CPU, HP's Slate 500 is a relatively well-equipped tablet. A USB port accepts external storage, a mouse, or a full-size keyboard to drive desktop-grade software. Like prior versions of Windows, Win 7 leaves something to be desired in terms of touchscreen interaction, but the certainty that further OS refinements will occur makes this product worth watching.
RIM BlackBerry PlayBook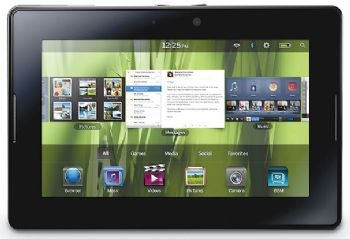 Research In Motion is bringing a relatively unknown OS to market in the QNX-based PlayBook. The 7-inch BlackBerry tablet has a dual-core CPU, plus MicroSD and MicroHDMI ports for expandability and connectivity. A 5-megapixel rear-facing camera and a 3-megapixel front-facing camera promise video capabilities that none of the PlayBook's rivals can offer.
Samsung Galaxy Tab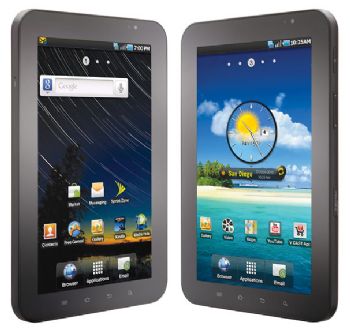 Available through five carriers in the United States–AT&T, Sprint, T-Mobile, U.S. Cellular, and Verizon–the Galaxy Tab rocks both 3G and Wi-Fi connectivity. This 7-inch Android slate has a 3-megapixel camera for photography and a low-resolution front-facing camera for video chat. The Galaxy Tab's trim design makes it easy to tuck unobtrusively into a jacket pocket. At 0.84 pound, the Tab is far more comfortable to work with than the 1.5-pound Apple iPad. But the unit's thickness (0.5 inch) and balance make it less pleasant to hold for long periods than, say, Amazon's third-generation Kindle e-reader, which weighs just 0.55 pound.
Stream TV eLocity A7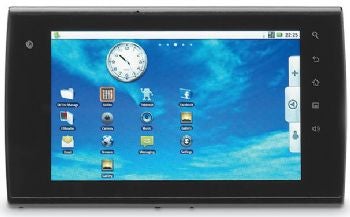 In our preliminary hands-on trials, Stream TV's eLocity, based on Android 2.2 (Froyo), hinted at being a multimedia powerhouse. HDMI, MicroSD, and USB ports give it the strength and flexibility to deliver serious entertainment either on its 7-inch screen (while you're traveling) or on an attached HDTV (in the living room).
ViewSonic Viewpad 7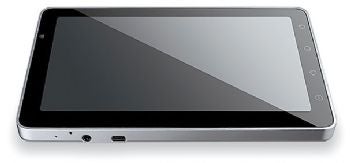 This 7-inch slate will run Android 2.2, carry a Qualcomm Snapdragon processor, and feature Google's services. It will also offer Wi-Fi and Bluetooth connectivity, and will be 3G-ready.