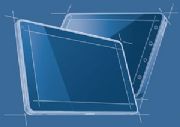 As cool as some of the new devices are, we've yet to find one that offers everything we want in a tablet. Here are the essential features we'd expect to see on our dream slate.
Weight and Dimensions
Most tablets are at least 0.5 inch thick, and weigh about 1.5 pounds. But for comfort during prolonged use, that weight must drop closer to 1.0 pound, and the depth needs to shrink by at least 0.1 inch (to about the thickness of the iPhone 4).
Antiglare Display
Movies and photos look great on glossy displays-as long as you're indoors. But take an iPad outside in full sunlight, and it quickly turns into an expensive handheld mirror. All tablet screens need better glare protection, and all of them should offer an antiglare coating at least as an option.
Kickstand
Flip this thing out to prop up the device. Some smartphones have this feature. It should be a no-brainer on tablets.
USB Ports
Want to add a keyboard, a mouse, a thumb drive, or some other peripheral to your slate? Forget the proprietary ports and awkward dongles from Apple and Samsung. We want USB A, the standard USB port that USB storage devices and other peripherals use.
HDMI
Tablets are great when you want to watch TV, movies, and home video, or showcase photos. But we need an easy, standard way to share it all on a bigger screen.
Web Standards
Flash is all over the Web, and we want access to it. The ideal slate will support open Web standards like HTML5 and add-ins like Flash and JavaScript.
Instant On
What makes the iPad and new Android tablets like the Samsung Galaxy Tab superior to the old Windows tablets? After the initial cold-boot, they turn on instantly, just as a cell phone does. Don't make us wait for our systems to start. If Windows 7 acquires this ability, it may stand a chance as an OS for slates.
Dual Cameras
Once you've had the experience of saying good night to your two-year-old, face-to-face, from 3000 miles away, you'll be convinced that a front-facing Webcam is not merely a convenience; it's a necessity. And no mobile device is complete without a high-resolution rear-facing camera for snapshots.
Open Video
To make video chat more accessible and usable for everyone, we need open standards whose applicability extends across all social networking devices. Tablets should lead the way here.
IP Printing
Most PCWorld staffers use tablets at work, and we often wish we could print documents from our slates without resorting to sketchy third-party apps tied to our PCs.