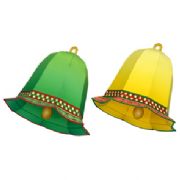 Holiday printer projects are usually pretty similar–photos turned into everything under the sun, including calendars and gifts, but mostly greeting cards. And in past years, we've described in detail how to print your own greeting cards, how to make custom photo gifts, and how to design calendars.
So I went out looking for more-unusual holiday projects that an industrious crafter can tackle with a humble inkjet (or laser) printer. Among my discoveries: Christmas tree ornaments that you can create at home, print-it-yourself gift boxes, and a dreidel modeled on Star Wars' R2-D2.
Thanks to the detailed instructions available online, you don't have to be an artist to tackle any of these projects. All you need is a printer, a little time, and (in some instances) special paper.
Ornaments
Christmas trees start going up the day after Thanksgiving (or if you're a champion, sometime before Thanksgiving), so why not make this year's tree unique with handmade, printable tree ornaments? It's a fun project that everyone can enjoy–and it might even save you some money.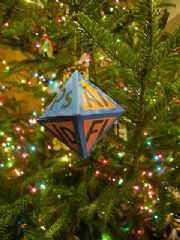 The InDesignSecrets blog has a fun, somewhat geeky ornament project for you to try: an octahedron that you can create in Adobe InDesign, print out, and fold for hanging on your tree. Don't worry if you're not an InDesign or Photoshop expert; the InDesignSecrets blog walks you through the entire process. In case you just want the ornament and want to skip all the steps involved in creating it yourself, the blog also offers an Adobe Creative Suite ornament template that you can print out as is and start folding.
For another geeky twist, Spacestation42.com has what it calls Fractal Fidgets papercrafts. They're 12-sided shapes with pictures of fractals on each of the sides–just string some ribbon through them and you'll have enchanting, dodecahedral ornaments.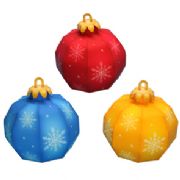 Want a more traditional, but still creative approach to holiday ornaments? Canon's Creative Park Website features a number of fun paper ornaments that you can print out and fold into impressive papercraft projects. Canon has all sorts of traditional ornaments, including holiday bells, candy canes, miniature stockings with poinsettia decorations, present boxes, and regular ornamental balls. Canon's papercraft projects include templates and assembly instructions, though you'll have to provide your own scissors, glue, ruler, pen, and printer.
Nativity Scenes
As Christmas approaches, many people decorate their homes with the famous manger scene; and lots of places on the Web will show you how to make your own.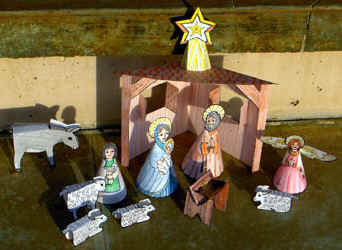 Paper Model Kiosk has a couple of simple-to-assemble Nativity scenes–they're closer to dioramas than to papercraft, but very pretty nonetheless. If you have children who like to color, you can also try the 3D papercraft Nativity scene from ScrapbookScrapbook.com.
Nativity scenes not your thing? Try making a papercraft Christmas tree instead–here's a cute one that even includes tiny ornaments (the instructions are in Japanese, but the images are reasonably self-explanatory). Canon also has a couple of Christmas tree projects, including this basic one and this more advanced tree with cutouts for hanging ornaments.
Gift Boxes
For many people, the holiday season is all about the pleasure of personalized gift-giving. If you're one of them, why not skip the generic in-store gift wrapping and make your own holiday gift boxes.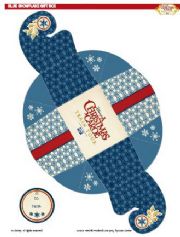 If you don't mind having extra branding on your box, consider HP Creative Studio's Disney Blue Snowflake Gift Box, which features a blue snowflake pattern, a red ribbon stripe, and separate dangling gift tag, with branding from Disney's A Christmas Carol tastefully located on the bottom of the box. A number of other Disney gift boxes feature A Christmas Carol branding, as well, including the Bah-Humbug Gift Box, the Plaid Gift Box, and the Victorian Gift Box.
If you're not a huge fan of Disney or Tiny Tim, HP has other options. Try its Christmas Tree Wrap set, with templates and instructions for a gift bag, a gift box, a gift card, and wrapping paper; or give this hot pink holiday gift box a whirl. If you're looking for a home-made holder for cash or a gift card, you might like HP's Holiday Memories gift card holder.
One thing to note: These gift boxes and bags are optimized for printing on regular-size (8.5-by-11-inch) paper, so they'll accomodate only small gifts such as jewelry. You can always blow them up and print them on larger sheets of paper (though the designs might get fuzzy), or you can design your own gift boxes using this template (you have the option of importing this plain template into Photoshop to embellish it, or you can print it immediately and break out the crayons).
Gift Tags
Though you can purchase packages of gift tags at just about any store that sells wrapping paper, it's a lot more fun to print your own!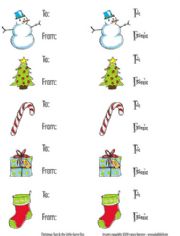 One Website that offers free, printable gift tag templates is FreePrintableGiftTags.net, which features gift tags for Christmas and Hanukkah (and a number of other occasions). About.com's Desktop Publishing section has a comprehensive list of gift tags for all occasions and situations–including fashionably oversize gift tags and gift tags for "gifts from the kitchen." And Microsoft Office has a bunch of holiday gift tag templates for Microsoft Word.
You have two choices for printing out gift tags: You can print them on regular paper (thicker is better) and affix them to your presents with tape, ribbon, or colored string, or you can go the extra step and print them on sticker paper (try Avery Sticker Makers Printable Sheets).
Papercraft Dreidel
Instead of making a dreidel out of clay, make one out of paper!
You can print out a papercraft dreidel template–Enchanted Learning has a simple one, while Disney's Family Fun Website features a more artistic one–on regular cardstock. Alternatively, you can print it out on regular paper and then glue it to thin cardboard (if you don't have cardstock). Cut around the edges, fold along the lines, and glue the ends together–simple! Disney's Dreidel includes a papercraft handle for spinning it, while Enchanted Learning's dreidel requires you to stick a straw or a thin wooden dowel through the top.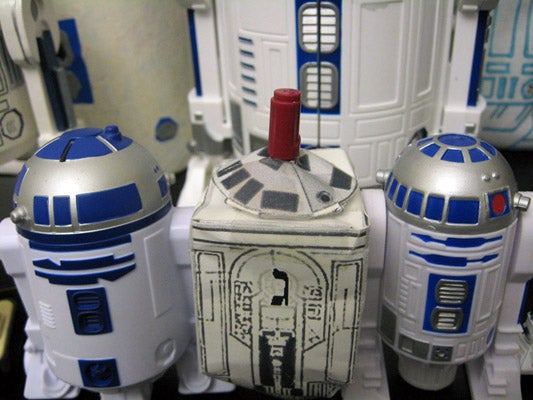 Want something a little different this year? Check out Star Wars' R2-D2-themed paper "Droidel." The Droidel is just like the other papercraft dreidels, except that it's designed to resemble R2-D2 from Star Wars; the template includes a little circular top that goes around the handle.
Candles
Candles are an integral part of the holiday décor in many houses–the flickering lights and the sweet aromas help create a festive atmosphere (assuming that you've taken appropriate precautions to minimize the potential for disastrous fires). Candles make great (and natural) housewarming presents, too.
Instead of dropping $25 on prepackaged decorated candles, why not use your printer to make your own candles? Of course, you can't print the whole candle (unless you have a nifty 3D printer that prints wax), but you can personalize inexpensive pillar candles with festive or personal designs.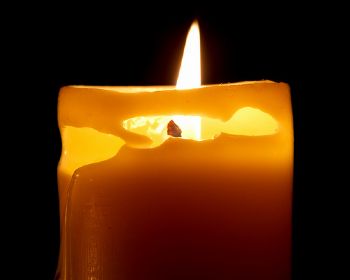 First, pick up some low-cost pillar candles (white and cream are the classic colors to use, but feel free to play with brighter colors) and some candle decal paper (10 sheets for $11 at DecalPaper.com).
Design your decal in a graphic design program such as Photoshop. Remember that you'll be placing the decal around the candle, so try to make it match the circumference of the candle (so that it wraps all the way around) or design decals that measure less than half the candle's diameter (so the entire design is visible from one side). Play around with photos, holiday clip art, and patterns.
Set your printer paper settings to 'Photo Gloss' with the best resolution possible, and print your decal on the glossy side of the decal paper. Once your decal is printed, spray the sheet of paper with Krylon Acrylic Crystal Clear High Gloss spray until the sheet is shiny (you'll need about three coats). You can purchase acrylic spray online or at your local hardware or craft store.
After the spray has dried (it takes about an hour), cut out the image. Place your cut-out image in a cup of water for about a minute, or until the decal film begins to slip against the backing. Then peel the decal away from the backing and carefully apply it to your pillar candle.
Voila! A perfect, pretty decorative candle, straight from your printer.
Note: The above instructions are for an inkjet printer. If you're using a laser printer, purchase laser printer decal paper and skip the acrylic spray.
Temporary Tattoos
Though you may not equate tattoos with the holiday season, temporary tattoos can be perfect for Christmas parties, kids' parties (they're sort of like face-painting…but quicker), and New Year's Eve. And with your trusty inkjet or laser printer, you can print out your very own festive holiday temporary tattoos.
All you need is a printer and some special temporary tattoo paper–you can find it at BelDecal or DecalPaper.com ($20 for five sheets of tattoo paper and five sheets of adhesive).
First, design your temporary tattoos. You can do this in any graphics program, such as Photoshop, but tattoos should be small, and you'll want to have as many designs as you can fit on each sheet. The best designs for temporary tattoos are simple ones, such as clip art, not photos. If you decide to print words, you'll need to flip them so that they're mirror images.
Once you have a sheet of tattoo designs, print a test sheet on plain paper. If everything looks good, go ahead and put the tattoo paper into your printer–only print one page at a time. Allow the printed sheets to dry completely before you touch them (you'll have to wait about 3 minutes).
Once the sheets are dry, remove the first side of the adhesive sheet and apply it to the tattoo paper. Make sure that no air bubbles get trapped inside (the easiest way to do this is to use a ruler to flatten out the adhesive as you stick it on).
Now you're ready to cut out each tattoo design. To apply a new temporary tattoo, remove the second side of the adhesive backing and press the tattoo against your skin for 20 seconds. Then wet the paper with a sponge or a wet paper towel for 60 seconds. When the paper is completely wet, remove the paper and you'll have a (temporary) holiday tattoo!