It may not have been high on Mark Zuckerberg's list of reasons for creating Facebook, but the social networking platform is a tremendous marketing tool. Nothing sells like word-of-mouth recommendations from trusted friends and family, and Facebook provides a forum for users to post status updates expressing feedback on products and services.
Location-based check-in with Facebook Places takes the marketing a step further by letting users share their current location and activities with their network of pals. Services such as Foursquare and Gowalla made location-based check-in popular, but Facebook has the advantage of more than half a billion members, and of being the online destination that users already spend the most time on.
You can capitalize on the marketing potential for your business by using Facebook Deals to attract customers and to reward them for checking in–promoting your business to the rest of their social network in the process.
The number of active Facebook mobile users is over 200 million, and growing. Those users are out and about, and Facebook Deals are pushed to their mobile phones to let them know what bargains are available in the general area. The Facebook apps for iPhone, Android, and BlackBerry all enable Facebook Places check-ins, but Windows Phone 7 does not yet have the feature.
As Facebook's Deals Guide for Businesses explains, "offering a deal can generate exposure for your business and help you reach new and existing customers. Give people a reason to stop by your business and make a purchase."
Creating an Individual Facebook Deal
To take advantage of Facebook Deals, you'll first need to establish or claim ownership of the Facebook Place for your business. Once you've done that, setting up a Facebook Deals marketing campaign is simple.
The Facebook Places Get Started page walks you through a step-by-step process for putting your Place to work, ending with 'Step 5: Create Deal'. Click the Create Deal button to start assembling your marketing campaign.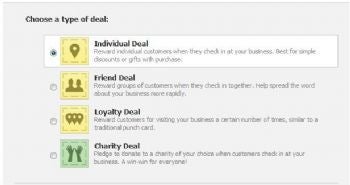 You'll find four different types of Facebook Deals: Individual, Friend, Loyalty, and Charity. Each campaign has unique benefits and can help drive traffic for your business in different ways, depending on your goals.
Individual deals are simply Facebook Deals that any person can claim to receive a discount or reward for checking in on Facebook Places. For example, you can offer a free item or a small discount as an incentive for customers to check in at your business on Facebook Places using their mobile phones.
To create an Individual deal, spell out the reward or incentive next to 'Deal Summary', and explain how customers can prove they've checked in to claim the prize in the 'How to Claim' field. For example, a restaurant can offer a free dessert with the purchase of an entrée at regular price for customers who check in on Facebook Places and show that check-in to their server.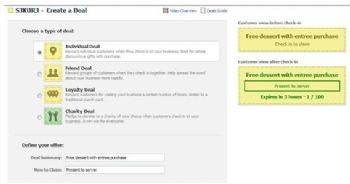 After you create the ad itself, you have to put some parameters around when and how often a customer can claim the deal. Fill in the starting date and time for pushing the Facebook Deal to customers, as well as the ending date and time. These start and end times define the period for which the Facebook Deals ad will be valid.
Aside from defining the time frame for the Facebook Deal to be active, you might also wish to specify a maximum number of times that customers can claim the deal at all. If you are giving away a free tote bag, for instance, and you have only 200 tote bags available, set the deal to end after 200 claims. You can also restrict an individual customer from abusing the Facebook Deal by limiting it to only one claim per user, or one claim per user every 24 hours.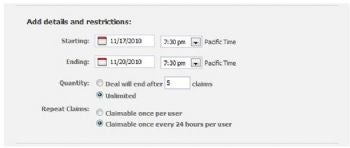 Voilà! That's all it takes. Just click Create Deal, and you'll submit your new Facebook Deals ad campaign to Facebook for approval. You should create your Facebook Deal at least 48 hours before you plan to start the promotion, to allow time for the campaign to get through the approval process. Facebook isn't trying to dictate how you run your marketing campaign, but it does want to maintain some basic quality control and ensure that Facebook Deals ads are both reasonable and legal.
Next page: More types of deals, and what not to do
Other Types of Facebook Deals
The steps for creating other types of Facebook Deals ads are almost the same, with minor variations depending on the type of ad. The purpose of a Friend Deal is to encourage more traffic by providing an incentive for customers to come in groups. The Friend Deal is almost identical to the Individual Deal; but to create a Friend Deal, you have to specify the number of friends who must check in together and be tagged in Facebook Places in order to claim the deal.

A Loyalty Deal is very similar to an Individual Deal, too, but like the Friend Deal it involves one additional parameter to specify. The purpose of a Loyalty Deal is to provide incentive for and reward repeat customers. You specify how many times the customer must come back–a number between 2 and 20–before they can claim the Facebook Deal.
With a Charity Deal, the incentive is completely different. The Facebook Deal does not directly reward the customer with a free promotional item or discount, but instead fosters a sense of goodwill and community giving: Your business pledges to donate to a worthy cause in exchange for customers' checking in on Facebook Places.
The Devil Is in the Details
Creating and launching a Facebook Deals marketing campaign is simple, but making it a success still requires effort and an ounce of luck. To give your Facebook Deal campaign the greatest chance of success, you need to keep a few things in mind.
First, remember that you are creating ad copy for a smartphone. Use simple, straightforward offers, such as "Buy one, get one free." Your target audience is Facebook Mobile users; they aren't going to stop to read wordy offers that pop up on their smartphone.

Make sure your staff is aware of how Facebook Deals work, and that they are informed of the deals you are actively marketing. Ensure, too, that you are prepared with the inventory or personnel necessary to meet demand and fulfill Facebook Deals claims.
Lastly, don't overdo an offer. A 50-percent-off deal might bring customers in droves–but an overwhelming response could virtually bankrupt your business if you're not careful. Another concern is that if you run a Facebook Deals ad that offers, for instance, unlimited claims of 10 percent off any purchase of $20 or more for six straight months, customers will eventually view the offer as a standard discount, and the Facebook Deal will no longer provide any incentive for customers to act now and check in to claim it.