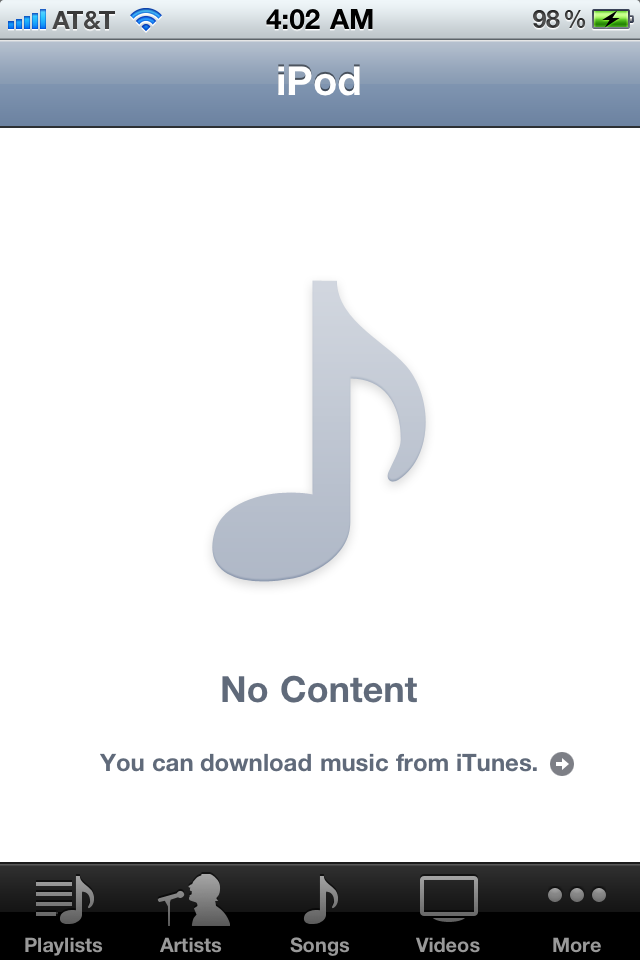 Apple's iOS 4.2 software update for the iPhone, iPad, and iPod touch has officially been released into the wild, and already a bug has been found. Users are reporting that after they updated their devices music, videos, audio books, and podcasts seem to be mysteriously missing.
I say "seem," because users can still "see" the space their media is taking up–4GB, 8GB, whatever it may be–and simply re-syncing the device doesn't seem to work.
I'm happy to report that there's a quick, easy fix to this bug, and it doesn't require re-syncing everything from your computer back to your iPhone (a daunting task for some, to say the least). So if you've just updated your iPhone or iPod Touch and received a "No Content" message, here's how to fix it:
1. Plug your iPhone/iPod Touch into your computer, and wait until iTunes recognizes it.
2. Once your device appears in iTunes (in the Devices menu on the left side), click the arrow next to the name of the device so that your media appears.
3. Click on "music" to open the music menu, and select a song from your device. Play the song.
4. Sync the device (this shouldn't take too long, as your device already has the media on it…it just doesn't know it).
5. Eject the device from your computer and check your iPod library–all of your music, videos, audio books, and podcasts should be back and in working order.
TechCrunch reports that this rather minor bug is affecting iPhone 4, iPhone 3GS, and iPod Touch users. I can personally report that the bug affected my iPhone 4, but not my iPhone 3G or 3GS (or my brother's iPod Touch).
Either way, it's good to know there's a quick fix!
Follow Sarah on Twitter (@geeklil) or at sarahpurewal.wordpress.com