Apple released iOS 4.2 into the wild about 24 hours ago, and users installing the software update have found improved HTML 5 features, quirky bugs and limited AirPlay support.
The highly anticipated mobile operating system refresh brings iOS 4 features such as folders and multitasking to the iPad for the first time. And many were excited to get their hands on AirPlay (a feature that lets you stream content from your iOS device to an Apple TV) and AirPrint, which allows you to print to select printers on a wireless network.
But it hasn't been a perfect launch for iOS fans. Here's a look at some of the early impressions and problems with iOS 4.2 for the iPhone, iPad and iPod Touch.
Content Gets Limited AirPlay
An iOS 4.2 feature getting a lot of attention is AirPlay, which lets you stream audio and video content from your iOS device to a new Apple TV. You can also use AirPlay to stream music through AirPort Express. But, at least for the moment, AirPlay isn't all it's cracked up to be. AirPlay works really well with stock Apple iOS applications such as YouTube, Photos and iPod (video and audio), but that's about it.
You can't stream video from your iOS device's Safari Web browser, for example, and PC World's sister publication Macworld found that many other video playback applications wouldn't work with AirPlay.
Blogger John Gruber also said you can't use AirPlay to stream a video shot using your iPhone to an Apple TV. "That's an obvious feature, right? Shoot a video on your iPhone, then play it back for family and friends on your big TV via AirPlay," Gruber said. I guess we'll have to wait for iPhone 5 for that feature.
The Case of the Disappearing Content
Some users were shocked to find that after upgrading to iOS 4.2 their music, video and podcasts were no longer in the iPod application. It turns out that iOS 4.2 has a quirky bug causing some iOS devices to fail to recognize iPod content. One solution on Apple's forums that appears to fix the problem is to sync your iOS device with iTunes, and click on the triangle next to your iOS device icon in iTunes' left sidebar. Then you select the "Music" heading underneath your device to see the music library on your handset. Select a song on your iOS device and play it, then sync your device one more time. Your content should return.
HTML 5 Support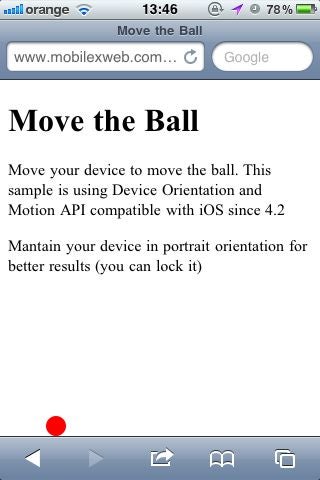 Apple has opened up some more iOS goodies for Web apps in iOS 4.2, according to mobile Web developer Maximiliano Firtman. Besides improvements to mobile Safari's HTML 5 support, Web developers can now use the accelerometers found in iOS devices to enhance their Web apps. Accelerometers are able to sense the orientation of your device, which allows iOS handsets to switch from portrait to landscape view and is a key component in iOS gaming.
If you'd like to try the new feature out, point your iOS device's Safari browser to ad.ag/wjmtgt. The sample site lets you move a red ball back and forth across your screen by tipping your device. For best results lock your screen orientation before trying it out.
Find My iPhone Hack

Apple made its Find My iPhone application, which lets you track your device from a Mac or PC, free to iPhone 4, iPad and new iPod Touch users running iOS 4.2. Find My iPhone was originally bundled with Apple's $99-per-year Mobile Me cloud sync service. Unfortunately, if you've got an iPhone 3GS, 3G or older iPod Touch, you're out of luck as there's no way for you to use Find My iPhone for free … or is there?
Lifehacker claims it has found a simple solution to let you use Find My iPhone for free on an older iOS device. All you need is an iPhone 4, iPad or new iPod Touch (even a friend's will do) and your older handset. First, download Find My iPhone on the newer iOS device and sign in to the app using your Apple ID connected to a Mobile Me account. Even though the service is free you need to sign in to Mobile Me (for free) for the feature to work.
Once you've got the newer device ready, you can download and install the free Find My iPhone app on your iPhone 3G or 3GS. Then log in once again with your Apple ID tied to the same Mobile Me account you used on the newer device.
You should now be up and running with Find My iPhone on the older iOS device for free, and you can disable Find My iPhone on the newer handset if you have to give it back to a friend. Check out Lifehacker for complete details, and let us know in the comments if this trick works.
Hardware Switch Revolt
Installing iOS 4.2 on the iPad switches the device's hardware button on the upper right side from a screen lock button to a mute switch. The move puts the iPad in line with other iOS device that also have a similar hardware-based mute function. But some iPad users are not happy about the change. My colleague Jared Newman said in October that he was sorry to see the hardware screen lock function go, while the folks at Gizmodo have decided to protest the change. The gadget blog is calling for disgruntled iPad users to post, "Hey #Apple, change the #iPad switch back to screen lock!" on Twitter, Facebook and comment sections everywhere in the hope that Apple will change its mind. Good luck with that.
Have you tried out iOS 4.2? What's been your experience so far?
Connect with Ian Paul (@ianpaul) on Twitter.