If you're looking to score a cheaper iPad or MacBook this Black Friday, the Apple Store might be able to help, but don't forget about authorized Apple retailers as well.
Apple began teasing Black Friday deals on its website, but hasn't announced any specific discounts. The ad shows images of every Apple product line, including iPhones, iPads, MacBooks, iMacs and Apple TV. Deals will be available both online and in stores starting at 8 a.m.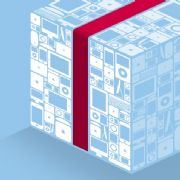 Keep in mind, however, that Apple usually doesn't cut the price of its iOS products, instead offering big discounts on related accessories. For deals on iPhones, iPads and iPod Touches, you'll probably have to visit an authorized reseller.
For example, Toys "R" Us is giving away $50 gift cards with any new iPod Touch, from 10 p.m. Thursday to 1 p.m. Friday. That's the best iPod Touch deal I've seen so far, but there are alternatives. Best Buy will offer $30 gift cards with an 8GB iPod Touch, and Radio Shack will have $20 gift cards for the same model. If you can't wait until Friday, MacMall has a $30 discount on the 64GB iPod Touch right now, and $10 discounts on the smaller models.
Radio Shack and Target are both offering $15 gift cards with the 8GB iPod Nano, but Target is also cutting the base price to $145, a $5 discount.
As for the iPad, TJ Maxx is already selling the 16GB model for $399, a discount of $100. I haven't seen any other iPad deals come up, but perhaps the Apple Store will have its own price cut to match. You can definitely count on discounted cases and keyboards. MacMall, for example, is now selling a Kensington Bluetooth keyboard and iPad case for $75 instead of $100.
MacBooks and iMacs are the most likely to be discounted by Apple itself, if previous years are any indication. Still, the best deals might come from authorized resellers. Stores like MacMall and Mac Connection haven't revealed their Black Friday plans, but they've already got discounts on Apple computers. Mac Connection has $100 off the Mac Mini, $30 off the new 11.1-inch MacBook Air and $150 off the 15-inch MacBook Pro. You can view all of MacMall's discounts here, but the sale ends Wednesday at noon Pacific time.