Another holiday season has arrived and it's going to pass once again without a netbook running Google's Chrome operating system. An optimistic rumor that appeared this month in Digitimes, a Taiwanese online publication with its finger on the pulse of the component industry, was dashed last week by Google's chief executive, Eric Schmidt, who told reporters at the Web 2.0 summit that netbooks running the OS wouldn't be available for at least for few months.
Availability may be even longer than that. A quick survey of prominent hardware makers by eWeek revealed a reticent HP on the subject, Acer confessing it had no imminent plans to launch a Chrome netbook in United States and Dell replying that it had no updates on the subject.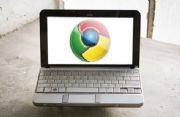 It was just about this time last year that Google released Chrome to open source and bragged that its partners — ASUS, HP, Lenovo and Toshiba — would have netbooks based on the operating system on the shelves in time for the holidays this year.
Why the delay? The answer to that may lie in the adage that technology stands still for no one, not even Google. When netbooks were hot, building them around Chrome seemed like a good idea. Then the iPad arrived on the scene and the rules of the game changed drastically. Add to that the runaway success of Android, which is now spilling over into the tablet market with the Samsung Galaxy Tab, and you can see why Google planners might want to put the brakes on rushing a Chrome netbook to market.
Fewer people are buying netbooks and laptops, and more are buying tablets, which may prod Google to rethink its Chrome strategy, according to IDC analyst Al Hilwa. "Something happened on the way to birth Chrome OS, and it is called Android," Hilwa told eWeek."Android has taught Google that maybe the cloud is not everything and there are ways to change the OS market dynamics without a pure cloud approach."